Seeking Volunteers to Lead Walking & Bus Tours During National Planning Conference (NPC23) in Philadelphia
We are looking for enthusiastic volunteer tour guides to help with the 2023 National Planning Conference (NPC23) in Philadelphia on Saturday, April 1st and Sunday, April 2nd, 2023. The orientation tours are designed to showcase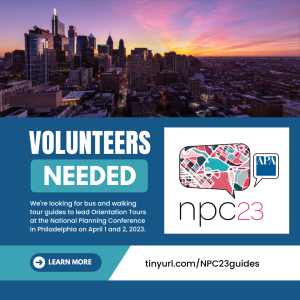 Philadelphia landmarks, neighborhoods, and its rich planning history. A script will be provided. The tours will depart from the Convention Center (1300 block of Arch), and each tour with have 2 local volunteers who follow a pre-determined and rehearsed script and route map. Tours will be held rain or shine.
Bus Tour
2 guides/bus
50 people/tour
approximately 3 hours long
one 15-minute stop
you should be comfortable speaking into a microphone and helping the bus driver navigate directions
Walking Tour
2 guides/tour
20 people/tour
approximately 2 hours long
covers 4.5 miles (including 1 mile on transit)
If you are interested, please visit tinyurl.com/NPC23guides to express your interest in volunteering. The form includes dates and times for both the walking and bus tours. We ask that you indicate all times and dates you are available by Friday, January 13, 2023. However, we will only schedule you for one of the tours (bus/walk) based on your responses. If you are scheduled to speak on a panel or lead a mobile workshop, we will do everything in our power to avoid conflicts with your other session(s).
Tour Guides will not be compensated for leading a tour; however, confirmed guides will receive 50% off published registration rates for NPC23. Additional information on registration will be sent once all guides are confirmed. If you are AICP-certified, you will receive one (1) extra CM credit for leading the tour in addition the CM credits for the tour itself. You do NOT need to be a member of the American Planning Association (APA) to be a tour guide. You can be a tour guide even if you don't plan to attend the rest of the conference.
This form is an expression of interest–we will contact you to confirm your participation and invite you to a training session for tour guides to be held in January or February 2023. Thank you for your willingness to volunteer for the National Planning Conference!