APAPASE is a network of nearly 800 planners working and studying in Southeastern Pennsylvania. Our members work across public, private, nonprofit, and institutional sectors and possess an impressive diversity of expertise and experience. The APAPASE Member Spotlight is a new regular feature of our website designed to help you get to know your peers. If you or someone you know would like to be featured here, please send an email to admin@dvrpc.org. 
Alexis Williams, AICP, PP
Employer: STV, Inc.
Title: Senior Planner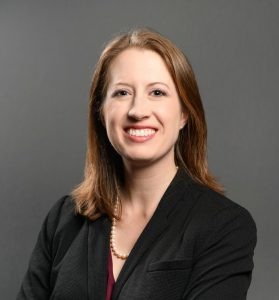 How long have you been at this company/organization/agency?
4 years
What are the main responsibilities of your job?
I manage local and regional planning projects, engage in business development, and lead public and stakeholder outreach.
What are you working on now? Can you tell us about a recent or ongoing project or initiative that you are excited about?
I am currently working with the Connecticut Department of Transportation to analyze the effects of bus and rail service and fare changes that they have implemented in response to the COVID-19 pandemic or that they plan to implement in the near future. The COVID-19 pandemic has had a large impact on transit ridership and transit agencies have had to adjust their service to accommodate the decrease in demand. Hopefully as the world starts to come out of the pandemic, ridership will increase as well.
What is your favorite part of your current job? 
As a planner, I really like interfacing between technical professionals and the public to present information and obtain feedback. Ultimately, transportation improvements are intended to serve communities so it is important that community stakeholders are involved in the planning and development of them. I also like using different planning tools such as GIS, Adobe Photoshop, and 3D models/renderings to graphically depict existing and future conditions.
How did you get into the field of planning?
I first learned about planning when I was an intern at the Pennsylvania Department of Environmental Protection during my summers in college. I worked with planners on important initiatives like the Coastal Zone Management Program and the State Water Plan. It was because of this experience that I pursued my Master's in Planning.
What was your first job?
My first job was a tennis instructor as part of the Tennis for Kids Program in my hometown of York, PA. The program offers free tennis lessons to children ages 7-16 during the summer. It teaches kids not only tennis skills but lif
e skills such as confidence, positivity, and responsibility.
What is your favorite place in the region?
My favorite place in the region is the John Heinz National Wildlife Refuge at Tinicum. You can always spot an abundance of wildlife on land, in the sky, or in the water. I love hiking the trails and kayaking there. 
Where can we find you when you are not working? When I am not working I am spending time with my husband and two young children exploring parks, biking, or doing activities that my children love. For instance, I have learned more about Pokemon than I ever wanted to know because of my 5-year old's obsession with it! I also enjoy doing outdoor or virtual fitness classes like Step and Zumba.