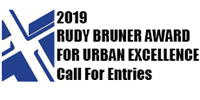 The Rudy Bruner Award for Urban Excellence recognizes transformative urban places distinguished by their economic and social contributions to America's cities. Founded in 1986 by architect Simeon Bruner, the award promotes innovative thinking about the built environment by celebrating and sharing the stories of creative and inspiring urban development.
Winners offer creative placemaking solutions that transcend the boundaries between architecture, urban design and planning and showcase innovative thinking about US cities.
One gold medal and four silver medals are awarded each biennial, with the gold medalist receiving a $50,000 cash prize and each silver medalist receiving $10,000.  To be eligible, projects must be urban, built (not just a plan or a program) and in operation long enough to demonstrate impact, and located within the continental United States.
The deadline for entries is December 12, 2018. There is no fee to enter.
More information: rudybruneraward.org
Apply at : http://www.rudybruneraward.org/apply/