MAY
Caroline Harries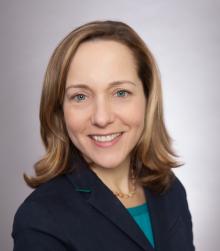 Associate Director
The Food Trust
How long have you been with the Food Trust?
12 years
What are your main responsibilities of your job?
At The Food Trust our mission is to ensure everyone has access to affordable, nutritious food and the information to make healthy decisions. My role supporting that mission involves working with partners across the country to help advocate for and implement programs and policies that increase access to healthy food in low to moderate income and underserved communities.
What are you working on now? Can you tell us about a recent or ongoing project or initiative that you are excited about?
Resulting from nearly a decade of advocacy from local leaders, I recently worked with partners in Massachusetts to launch the Massachusetts Food Trust Program. This program is modeled off of a program started here in Pennsylvania, the Pennsylvania Fresh Food Financing Initiative. It will help bring healthy, affordable foods to underserved communities throughout the state by supporting grocery stores and other healthy food businesses in those neighborhoods. The program has received tremendous interest so far, and I'm really excited about its potential to support communities in need of more healthy food options across the state.
We're also working with our partners, Reinvestment Fund and PolicyLink, to enhance our national website, healthyfoodaccess.org which provides resources for advocates, entrepreneurs and stakeholders interested in supporting healthy food access in their own communities. Keep an eye out for our new look coming soon in Spring 2019!
What is your favorite part of your current job?
One of my favorite parts of my job is when we get to see policies and programs we've worked with partners to support result in a real tangible outcomes and improvement in quality of life for communities. For example, Vinton County, Ohio lost its only grocery store in 2013. The county is located in southern, rural Appalachian Ohio and that meant residents had to drive at least 20 miles round trip to the closest store and venue offering fresh foods. Thanks to support from a program we helped local partners develop, the Healthy Food For Ohio program, a new grocery store opened there in the fall of 2017.  Rhoda Price, the Director of Senior Services for Vinton County, stood up at the groundbreaking for the store with a banana in her hand, rejoicing that the new grocery store will provide seniors in the town with access to bananas so they don't have to take a potassium pill!  I think that's a great example of how important grocery stores and healthy food access are to communities.
What is your favorite place in the region?
We live in Center City Philadelphia and I love our neighborhood and the vibrancy of city-life. But it's winter time now so my current favorite place in the region is the Poconos for skiing and hiking. It's amazing to me that we have access to beautiful mountains and woods so close to the city.
Where can we find you when you are not working?
With my family jogging or biking along the Schuylkill river path, hiking along the Wissahickon, or shopping at our local farmers market!
What is one thing about you that might surprise your colleagues?
I often feed my kids pizza, chicken nuggets and hot dogs. Please don't tell them. Becoming a working parent has helped me more keenly understand both the challenges associated with, as well as the importance of, healthy food access in neighborhoods.
What changes have you noticed about the profession over the course of your career?
Food access and food systems planning have become part of the field. It was an emerging topic when I started at The Food Trust twelve years ago and it  has been incredible to see food systems planning jobs opportunities and food systems planning courses emerge and proliferate. I envy younger  professionals who have majored or minored in food systems and would love to go back and learn more.
---
APAPASE is a network of nearly 800 planners working and studying in Southeastern Pennsylvania. Our members work across public, private, nonprofit, and institutional sectors and possess an impressive diversity of expertise and experience. The APAPASE Member Spotlight is a new regular feature of our website designed to help you get to know your peers. If you or someone you know would like to be featured here, please send an email to asvekla@dvrpc.org.