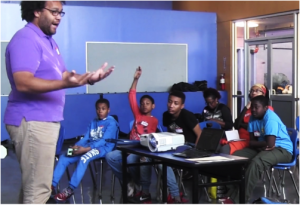 Keep Philadelphia Beautiful (KPB) is looking for passionate volunteers to serve as sustainability ambassadors at School District of Philadelphia schools. Sustainability ambassadors will be responsible for leading presentations on neighborhood beautification measures, such as recycling and composting.
KPB provides in-person training and presentation materials to ambassadors prior to engagement activities. The presentations have been developed with the Philadelphia Streets Department and the School District of Philadelphia through the District's GreenFutures initiative (GreenFutures). A commitment of 2, 1-hour presentations per semester is required, and volunteers will be assigned to schools that have expressed interest in the program.
Now in its third year, the program has been a tremendous success. KPB reached over 2,300 students last semester – the most to-date! KPB is looking forward to another successful year with your help.
You can find more information about the program here. To sign up as a volunteer, contact Michelle Feldman, KPB Executive Director, at michelle@keepphiladelphiabeautiful.org.