All webcasts are at 1 p.m. ET and are approved for 1.5 AICP CM credits
July 6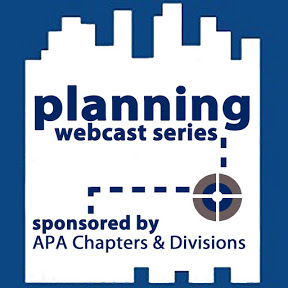 South Carolina Chapter
Planning & Zoning Tools for Preserving Historic Communities
Speakers: Andrea Harris-Long, AICP and Andrea N. Pietras, AICP
Charleston County sits in the heart of the Gullah Geechee Cultural Heritage Corridor, a federally designated National Heritage Area comprised of communities of Gullah Geechee people, stretching from North Carolina to Florida.  In the unincorporated areas of the County, African Americans established communities after Reconstruction and have maintained a distinct community character that, in recent years, has been threatened by development pressures and population growth.  This session will share how the County Planning Department has coupled historic preservation efforts with planning and zoning principles to protect these unique cultural landscapes and encourage the communities to thrive for years to come.
July 13
Pennsylvania Chapter
Integrating Green Infrastructure into Pittsburgh's Urban Fabric
Speakers: Christine Mondor, AIA and Megan Zeigler, MLA
Pittsburgh Water and Sewer Authority recently completed a comprehensive Sewershed Urban Design Study to integrate high performing green infrastructure into the city's urban design and planning efforts. The sewershed plans identify key elements in creating networked GI systems and demonstrates how these infrastructure improvements leverage additional neighborhood benefits.  The presentation focuses on how networked or shed-based systems for rainwater management marry engineering, data-driven decision-making tools to create landscapes, urban places, and projects in a replicable way.
July 20
Transportation Planning Division
Publication Spotlight: The 2018 State of Transportation Planning
Speakers: David Heller, Karina Macias, David Somers, Tim Storer, and Nathan Hicks
This webinar will highlight The APA Transportation Planning Division's most-recent publication: The 2018 State of Transportation Planning.  The State of Transportation Planning is a bi-annual report that focuses on current topics in the transportation planning field; the 2018 report focuses on subjects such as: uncertainty in the future of transportation planning, autonomous vehicles and emerging technology, innovation in data collection and analysis, and urban mobility and livability.  In this webinar, a select group of contributing authors will share their articles and discuss major takeaways as well as any updates since the publication.  Articles to be covered: "Planning for Autonomous Vehicles: Distilling Reality from Fantasy"; "How LA is Using Technology to Deliver Urban Mobility"; "Transportation Agencies Adopt a Scenario Planning Approach for the Uncertain Road Ahead"; and "Advances in Automated Bicycle and Pedestrian Counting".
July 27
Women and Planning Division
Women in Planning: Emerging Leaders
Speakers: Corrin Hoegen Wendell, AICP, Dena Farsad, Yemeserach Taddele, Andrea Clark, and Carrie Sauer
Planners just starting out are already making a significant impact to the way we as planners think about tough and intriguing issues in the planning field. Join the APA Women and Planning Division for an exciting and inspiring discussion focused on highlighting division student members from various planning programs from across the country and internationally! A panel of top female recent graduates in their early career will discuss a wide range of important topics including their in-depth research and thesis capstones focused on topics such as equitable and sustainable communities, infrastructure and mobility constraints, environmental issues, and transportation barriers, as well as share their own experiences and stories. See how each has found interesting ways to make their mark on the planning profession. This moderated panel will allow the audience to participate in these planning topics through the use of live polling technology and interactive questions.
Click on the title links to register.  You can see the current listing of all webcasts at www.ohioplanning.org/planningwebcast.
CM credits can be claimed by looking up the sponsoring Chapter or Division as provider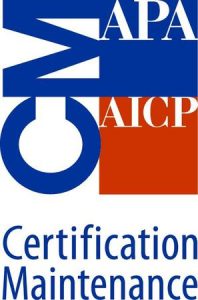 Distance Education – These two recorded webcasts from 2017 have been selected for AICP CM DE credit for viewing anytime during the 2018 calendar year.
Law:  Images, Creative Commons and Copyright – Urban Design and Preservation Division.  Event #9127635
Ethics:  Queer and the Conversation: The Ethics of Inclusion – LGBTQ and Planning Division.  Event #9138341
Remember that the event numbers for DE credits are different from those for the live sessions.