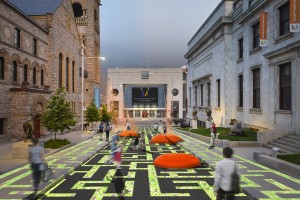 Wednesday, September 9, 2015 from 5:30pm to 7:30pm
Center for Architecture, 1216 Arch Street
Join us to launch a national design competition to design innovative outdoor play spaces for a Philly public school, library, and recreation center!
We'll reveal the three competition sites and tell you more about competition prizes, how you can build a team, and how to get started. Get inspired by our current exhibition of over 40 projects presenting international best practices in play space design. Form your team with architects, landscape architects, educators, artists, and other play space advocates who want to be part of the competition too.
Space is limited. Be sure to reserve your spot now. RSVP.
Reception with drinks and hors d'oeuvres. $20/$10 Community Champions.
Play Space is a partnership of the Community Design Collaborative and the Delaware Valley Association for the Education of Young Children (DVAEYC) with support from The William Penn Foundation.