DATE:
September 10, 17, 24, 2019
TIME:
6:30 p.m. – 9:30 p.m.
LOCATION:
Upper Merion Township Building
175 West Valley Forge Road
King of Prussia, PA 19406
COST:
$110 Registration Fee*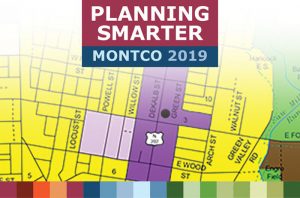 This comprehensive course will be taught in three consecutive Tuesday sessions—September 10, 17, 24—in the Upper Merion Township Building Freedom Hall, 175 West Valley Forge Road, King of Prussia, PA 19406 from 6:30 p.m. to 9:30 p.m. The course deals with probably the most complex and provocative topic in local planning and emphasizes the fundamentals for developing a sound zoning ordinance using the authority granted in the Pennsylvania Municipalities Planning Code (MPC). Course topics include the relationship of zoning to comprehensive plans, key terms used in zoning and how they are applied, critical issues in drafting a zoning ordinance and map, procedures for adopting and amending ordinances, and basic zoning administration.
The course also explores techniques such as overlay districts, performance zoning, traditional neighborhood development, and planned residential development as well as the options available through regional planning. Participants will have an opportunity to take part in mapping exercises, reviews of ordinance provisions, and discussions of problem situations.
The course was developed by the Pennsylvania Planning Association and Penn State Extension Service through its training agency, the Pennsylvania Municipal Planning Education Institute (PMPEI), and is taught by certified PMPEI instructors. It is limited to 25 participants, and pre-registration is required. The registration fee is $110* per person.
*Municipalities with a current planning assistance contact with MCPC are eligible for a discounted rate of $90.
Available Credits
PMPEI is an approved provider of continuing education credits for the following: registered landscape architects, attorneys (PA Continuing Legal Education Board), engineers, land surveyors, professional geologists, and uniform construction code officials. Additional fees apply for credits.