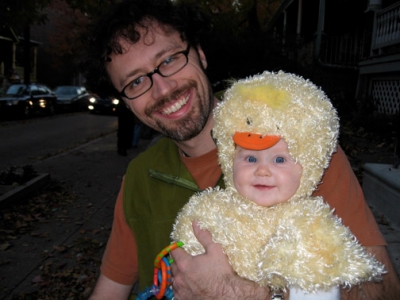 Bruce Hansen
Some say it's cliched to recall of someone passed, "He had a most memorable laugh." None of those people ever met Bruce Hansen.
Bruce was in my class in planning school at Penn, and from the very first week, his laugh was famous. It was strong, guttural, from deep down in the belly. It had the slightest build, and would quickly hit a sonic frequency that powered it over the rest of the noise within a hundred yards. It would go on just longer than was normal or appropriate, and as soon as it died down, the rest of the room would laugh in response. It was far from the only way Bruce made those around him smile, but it was the loudest way.
A year ago this week, the alums in our planning class got word that Bruce had died suddenly, unexpectedly. It didn't seem possible.
Besides being a great friend, father and husband, Bruce was a tremendously talented planner, having worked locally at Hurley~Franks Associates and the Greenspace Alliance.
Those who knew and loved Bruce are set to celebrate his life next month with the first Bruce J. Hansen Memorial Chicken Run 5K & Children's Fun Run in Mechanicsburg, PA.
The race will benefit the Pennsylvania Environmental Council, an organization Bruce supported, and participants get a fabulous T-shirt.
Only folks who register by Sept. 15 are guaranteed a T-shirt! After that, it's first come, first served.
Check out the race's official site and Facebook page for all the details.
You still have a few weeks to warm up your running. Make sure to practice breathing, because during the run, belly laughs will be not just accepted, but expected.
Saturday, Oct. 6, 2012
Soldiers & Sailors Memorial Park
1 Memorial Park Dr., Mechanicsburg, PA