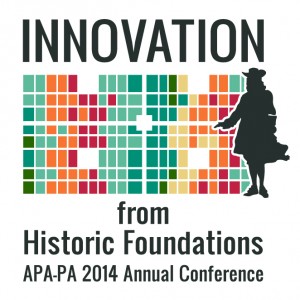 Registration for the APA PA Annual Conference is now open!  Register online here by September 12 to enjoy the early bird rate.
View the preliminary program here. This year's conference includes over 50 sessions and 6 mobile workshops.
Reserve your hotel room at the Society Hill Sheraton at the group rate of $169 (plus taxes) per night.  Hotel reservations must be made by September 15 to receive the rate. However it is recommended you register sooner as it is anticipated the hotel will sell out.
Also, SEPTA is offering free 5-day Independence Transit Passes to conference attendees.  If you would like to take advantage of the pass, you must check the appropriate box on the conference registration form.  There is an additional $1 to receive your pass in the mail in advance of the conference or it may be picked up at the SEPTA booth at the conference.
See you at the conference!