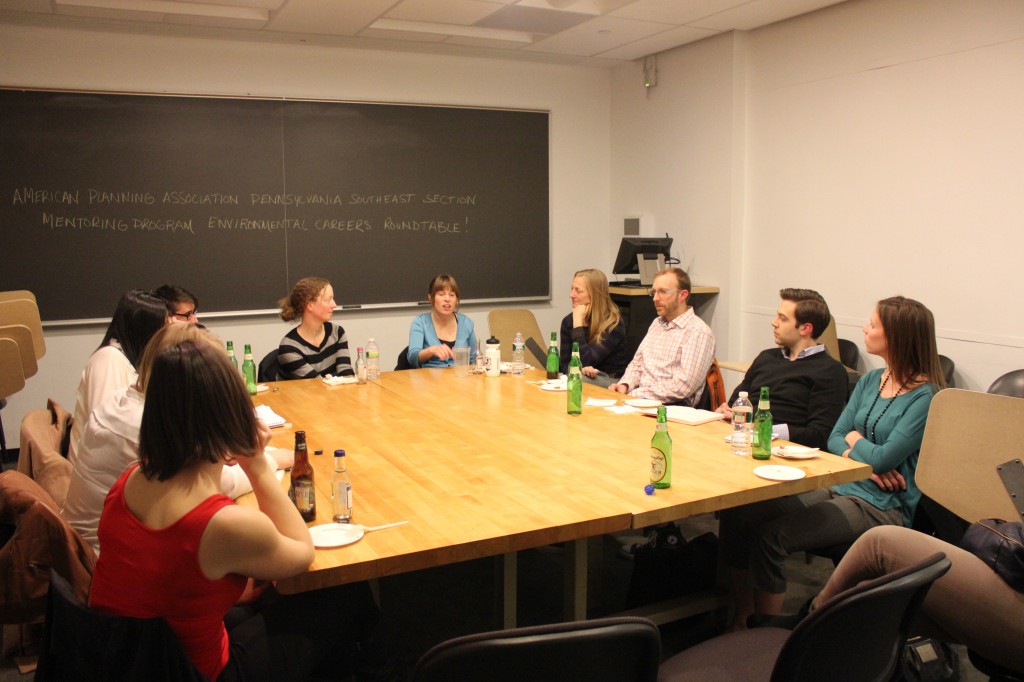 On Friday, April 5 the APAPASE Mentoring Program held a professional roundtable discussion at PennDesign focused on Environmental Careers. Professional guests included Kathleen Grady, Director of Sustainability at Temple University, Chris Linn, Senior Environmental Planner at the Delaware Valley Regional Planning Commission, and Emily Linn, Environmental Protection Specialist at U.S. Environmental Protection Agency. The informal discussion was moderated Jeannette Brugger, Pedestrian, Bicycle and Open Space Planner at the Philadelphia City Planning Commission.
Each speaker described the professional journey from school to his or her current position, and some of the lessons learned along the way. Students in attendance, including first and second-year planning students from Penn and Temple Universities, asked about important skills used in environmental careers, as well as recommendations for making the most of the short time in school.
In addition to developing technical skills such as reading and creating plans, preparing budgets, communicating a message, and familiarity with computer programs, each guest stressed the importance for young planners to have a mentor to help build connections and navigate career decisions.
Emily Hosek, a first-year PennDesign student found the roundtable to be especially relevant as she considers an international career focusing on sustainability. "It was extremely valuable to connect with people actually working in the field since it is easy to feel disconnected from the realities of professional careers while we are in school. It was inspiring to see how much they are passionate about their work, and willing to share their experiences through this open dialogue."
Following the roundtable discussion, participants gathered for a screening of Promised Land, the 2012 film starring Matt Damon and John Krasinski about fracking in a rural Pennsylvania town.
This evening was part of the 2013 Greenbuild Challenge and was made possible by support from the APAPA-SE Mentoring Program and PennDesign Student Council. For more information about the 2013-2014 Mentoring Program, contact Jeannette Brugger or Tali Cantor at planningmentorpa@gmail.com.