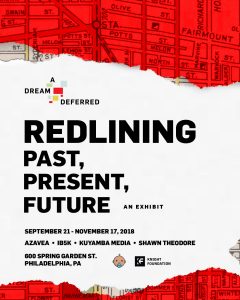 A Dream Deferred
Redlining Past, Present, Future
Opens September 21
Using art, technology, and media, A Dream Deferred tells the story of how race and policy shape the landscape of Philadelphia and the lives of its residents. The project, named for a poem by Harlem Renaissance writer Langston Hughes, will explore what happens when people and cities are restricted from reaching their true potential.
Experience multimedia storytelling through interactive touchscreen mapping, a large-scale art installation by Shawn Theodore, and short documentary film. Visitors will also have a chance to share their personal reactions in a private confessional booth.
Opens September 21 through November 17
600 Spring Garden Street, Philadelphia, PA
Free Admission
Complementing the exhibit is a community panel series seeking to examine the myth of meritocracy.
For more information on exhibit hours, partners, and panel series, visit adreamdeferredphl.org.