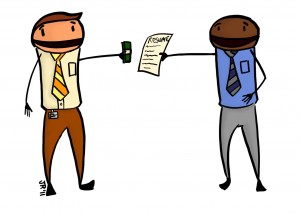 While you're all snowed in, nothing better to do than apply for some jobs!
1) Director of Community Engagement – New Kensington CDC – Philadelphia
2) Managing Director – Impact Hub – Philadelphia
3) Senior Director, Development – Pennsylvania Real Estate Investment Trust – Philadelphia
4) Director, Research & Quality Assessment – Freire Charter School – Philadelphia
5) Director of External Affairs – Cultural Data Project – Philadelphia
6) Project Manager – Fairmount Park Conservancy – Philadelphia
7) Project Manager – Penn Institute for Urban Research – Philadelphia
8) Summer Intern – Philadelphia Water Department – Philadelphia
9) Assistant/Associate Professor, Urban Design and Infrastructure Planning – College of Architecture and Design at New Jersey Institute of Technology – Newark, NJ
10) Summer Internship – Partnership for Public Service – Philadelphia
11) Director of Lending and Training – Women's Opportunities Resource Center – Philadelphia
12) Chief External Affairs Officer – Opportunity Finance Network – Philadelphia
13) Director, Case Manager – People's Emergency Center – Philadelphia
14) Planning Director – Bethlehem Township – Bethlehem Township, PA
15) Director of Community Development – Lower Providence Township – Eagleville, PA
16) Planning Director – Borough of State College – State College, PA
Full descriptions after the jump!
1) Director of Community Engagement – New Kensington CDC – Philadelphia
Function: Oversee, coordinate and advance community engagement activities within diverse low-income neighborhoods using a variety of engagement tools, including the Sustainable 19125 & 19134 Initiative. Grow partnerships and resources within the Fishtown, Port Richmond and Kensington area. This position will oversee the joint efforts of the NAC, Sustainable 19125 & 19134, and Somerset Neighbors for Better Living. Will assist with oversight of Vacant Land Management programs, as needed.
Reports to: Deputy Director
Responsibilities:
• Oversee and advance overall community engagement activities within large and diverse low-income neighborhoods including the North of Lehigh Neighborhood Revitalization Plan.
• Spearhead the Sustainable 19125 Initiative, working with more than 15 city and nonprofit partners and volunteer driven actions to advance sustainability resources and capacity throughout the community. Identify and expand partnership opportunities which align with strategic direction and expand program throughout larger service area. See sustainable19125.org for more program info.
• Ensure various department contract requirements are complementary and being met including Neighborhood Advisory Committee Contracts, Elm Street, and more.
• Inform Deputy Director of grant opportunities as applicable. Work with Deputy Director to develop a long-term fundraising strategy. Help prepare grant applications as needed. Manage grant-funded projects and provide reports and documentation of services.
• Work with departmental team to advance inter-departmental operational goals and objectives including neighborhood capacity building, geographically focused strategies, streamlined neighborhood communications and data collection.
• Serve as project manager for green infrastructure projects, to be assigned as appropriate.
• Work closely with Executive and Deputy Director to strategically align Community Engagement goals with other organizational initiatives.
• Work with Real Estate Development, Housing Counseling and Economic Development teams on ongoing coordination for joint initiatives and ensure inter-departmental communication.
• Supervision and management of 4 full-time staff and volunteers.
• Other duties as assigned.
Qualifications and requirements:
• Bachelor's degree required.
• 5 years project management experience.
• Strong management, leadership and supervision skills a must.
• Demonstrated ability to build partnerships among city, state and local agencies. Ability to understand, explain and work within city, regional and state policies.
• Development, management and financial oversight of $1 million budget.
• Experience planning, coordination and organizing multi-agency funded capital improvements.
• Ability to work independently and collaboratively, prioritize work, take initiative, manage multiple tasks and meet deadlines.
• Excellent oral and written communication, strong interpersonal skills, coalition building, social media and marketing skills. Commitment to community engagement. Spanish language proficiency a plus.
Compensation:
Competitive salary with excellent benefits including HMO health plan, long- and short-term disability insurance, life insurance, paid vacation and 403 (b) retirement plan.
Application Process: Email cover letter, résumé, and writing sample by March 1st, to Shanta Schachter, NKCDC, sschachter [AT] nkcdc.org. All candidate resumes are given due consideration and are kept on file for one year, but we cannot always respond personally due to the high volume of inquiries.
2) Managing Director – Impact Hub – Philadelphia
Impact Hub is a global community of entrepreneurs and professionals building projects, organizations and businesses that build a better world. We create communities, programs and systems where people can create scalable solutions to complex problems. Impact Hub staff plays an integral role in this community. We run seamless operations to ensure efficiency and ease within the spaces we manage. More importantly, we are the drivers of culture in the community, meaning we set and adhere to the environment we believe our members want.
Mission Hub LLC is the parent company of several Impact Hubs (Bay Area, New York, Philadelphia) as well as the SOCAP conferences. Mission Hub imported the Impact Hub model to the U.S. in 2009 and has become the leader in North America, supporting a high-quality roll-out of new Impact Hubs via the Impact Hub Cities program. SOCAP has produced six annual global conferences at the intersection of money and meaning, bringing together practitioners and leaders from across sectors and regions to advance the field as a whole.
Position Description
The Managing Director will continue to serve and build Mission Hub's location in Philadelphia, which is tied to a quickly growing global network. As the leading role for culture building, growth and execution, they must embody entrepreneurial drive, creativity, strategy and hard work to catalyze a diverse, inclusive, locally rooted, globally connected Philadelphia community.
Major Duties and Responsibilities
This position focuses on managing the new Impact Hub in Philadelphia. The ideal candidate will have strong knowledge of Philadelphia demographics, the local entrepreneurial and social enterprise scene, city business dynamics, the arts community, civic sector realities and opportunities, and key stakeholder networks. Importantly, this position will also be responsible for hiring and managing a cohesive, competent, and culturally strong staff to execute on defined goals and deliverables.
The following are core responsibilities:
Culture Setting
Continue refining and instilling a collaborative and shared physical environment.
Engage and empower the members, and encourage them to engage and support one another in their ideas and ventures.
Employ 'Art of Hosting' techniques to fuel a vibrant and innovative community
Refine current programming and content strategy for the Philadelphia location in collaboration with Mission Hub's national programming department.
Community Growth Strategy
Identify and target high value partnerships with the goals of creating a robust membership experience and engaging with the larger Philadelphia community
○ Engagement with business communities, city, arts, and university partners to create programming and content for the Impact Hub community
○ Bring in and strengthen ties with the Philadelphia sustainability and social enterprise community through partnerships and content production
Aggregate knowledge of existing Philadelphia social enterprise and sustainability community maps, and continue strengthening reach.
Adapt and deploy the Impact Hub national communication strategy that highlights the unique qualities of the Philadelphia community
Oversee member attraction strategies
Identify, recruit, secure and anchor organizations for the location's office spaces
Management
Oversee hiring, training and managing of the Philadelphia team
Coordinate with Mission Hub team for culture alignment and implementation of existing systems
Responsible for facilitation of the creation and execution of all systems needed to run a successful Impact Hub with the support of Mission Hub
Budget and Finance
Develop and manage budget for the location in collaboration with MH Finance department
Make recommendations to Mission Hub board on capital investments into shared space locations
Make decisions on additional large expenses needed for community
Business Development
Work with existing and new partners on developing opportunities together
Manage, explore and secure new partnership opportunities
Outreach to local in-kind partnerships (F&B, community & business resources, etc)
The ideal Managing Director will exhibit the following qualities and provide proof of the following experience:
Ability to connect with diverse cultural, social and educational backgrounds
Experience creating and managing a budget
4 years of experience working in the Philadelphia social, environmental or non-profit sector
6 years professional experience as a manager or director
Strong understanding of the Philadelphia early business, design and startup scene
Strong relationships or ties with stakeholders across all neighborhoods in Philadelphia
Entrepreneurial drive and alignment with Impact Hub values
Creative and dedicated approach towards space, design, and community building
Excellency in communicating in English
Desired experience and skills
Experience working in a startup environment
Experience working in sales
Familiarity with Google Apps suite
Knowledge of growing social and environmental sectors
Operations and community building background
Experience with raising capital
Please submit a cover letter and resume to jointheteam@impacthubphiladelphia.com. Thank you.
3) Senior Director, Development – Pennsylvania Real Estate Investment Trust – Philadelphia
DEPARTMENT: Development
REPORTS TO: Senior Vice President, Development
JOB SUMMARY:
The Senior Development Director will be responsible for overseeing the development/redevelopment process from conceptualization through occupancy consistent with schedule and budget. Responsibilities will include handling entitlements, easements, funding approvals, and governmental relations. In addition, the Senior Development Director will assume additional project responsibilities as the company maintains an active and constant redevelopment pipeline.
The Sr. Development Director will:
Handle entitlement/zoning process and manage consultant team
Work closely with team – Legal, Leasing, Construction, Asset Management, Finance and Marketing to insure that projects are brought to completion on time as designed and all issues and concerns are addressed immediately.
Manage due diligence efforts for the project and maintain all appropriate documentation.
Maintain control of all expenditures to ensure conformance with project budget
Approve all construction and development/redevelopment costs for payment and makes design decisions affecting operating costs
Establish project development/redevelopment schedules and evaluate performance within schedules, making necessary revisions where appropriate
Oversee project team members to ensure compliance with project expectations
Keep Senior Executives informed regarding development/redevelopment direction, management issues, and project decisions
Qualified Applicants will have:
Minimum of 7 to 10 years of Development and/or Redevelopment experience
Civil Engineering or Architectural Degree
Strong analytical skills
Capability of developing and executing strategic redevelopment plans, understanding the financial implications of the development/redevelopment process
Strong leadership skills with the ability to work in a team environment
Exceptional follow-through and organization skills
Demonstrated ability to support or lead initiatives as assigned or requested
Strong communication skills, both orally and in writing, with all levels of management, team members, outside legal counsel, bankers, merchants, contractors, architects, and etc.
Excellent presentation skills.
Effective interpersonal skills with the ability to manage business partnerships with multiple vendors
LOCATIONS:
Philadelphia, PA
Corporate Office
Equal Opportunity Employer
To apply for a position with PREIT please send resume to:
careers@preit.com
Fax (215) 735-5286 or
PREIT/HR Department
200 S. Broad Street
Philadelphia, PA 19102
4) Director, Research & Quality Assessment – Freire Charter School – Philadelphia
Freire Charter School is currently seeking a Director of Research and Quality Assessment to support the ongoing strategic initiatives of the organization during a period of exciting growth. Freire staff members are forward-thinking team players passionate about working with and unleashing the potential of urban youth. We seek candidates who value diversity, are highly motivated, and who will demand excellence from themselves and their students.
Job functions include but are not limited to the following areas:
Conduct research, analysis, and provide ongoing strategic counsel and support to Head of School (CEO) and Board of Directors in developing and executing strategic vision of the organization
Manage the continued development of the organization's performance management dashboard system, student achievement modeling system, and comprehensive student quarterly progress report, ensuring that design and implementation of the reports reflect Freire Charter School's vision and values.
Manage Freire Charter School's relationship with the School District of Philadelphia's Charter School Office, as related to issues of charter renewal processes, data collection and analysis, school performance metrics, and other areas as needed.
Manage Freire Charter School's relationship with its public relations team, to enhance the school's brand recognition and strategic position within the regional charter school sector
Understand and communicate with school leaders about the evolving charter school and public education political and policy landscapes in Philadelphia and the region
Write grants and reports as needed to support the ongoing and evolving goals of the organization
Manage the Head of School's office, including the Assistant to the Head of School, ensuring accurate and polished presentation to and communication with external partners, staff, and Board of Directors
Perform operations, human resources, and development functions as needed, particularly during times of organizational growth and expansion
This 12-month position requires excellent communication and organizational skills, in addition to time management and multi-tasking. The ideal candidate will have an interest in public education and education policy, a desire to work in a high-performing and growing organization, and the following qualifications:
Positive attitude, sense of humor, and willingness to do "whatever it takes" to get a job done
Ability to work well individually and as part of a team
Bachelor's degree required, Master's degree preferred
2-5 years of professional experience; some school-based experience is preferred
Strong analytical, writing, and communication skills
Solution-based mindset, takes initiative
Detail-oriented, strong organizational skills
Fluency with internet-based research and Microsoft Office, including PowerPoint and Excel
How to apply
Freire offers an excellent salary and benefits package, a strong commitment to all staff as professionals invested in life-long learning, and the opportunity to work with the best students in Philadelphia. To apply, please email cover letter, resume, and your response to the application task below to employment@freirecharterschool.org with "Director of Research & Quality Assessment" in the subject line of your email. Paper applications will not be accepted. No phone calls, please.
Application Task
Recent news has highlighted the Department of Education and the Department of Justice's shifting guidelines for schools around zero-tolerance policies. After reviewing the coverage of this story in The New York Times (see this link) and Freire Charter School's "No Second Chances" Policy (found on p. 6-7 of the school's Parent-Student Handbook, available here), please draft a 2-page memo for the school's Board of Directors outlining any strengths, weaknesses, or anticipated gray areas in interpreting and implementing Freire's policies in light of the new federal guidance.
5) Director of External Affairs – Cultural Data Project – Philadelphia
The Cultural Data Project (CDP) is the emerging national standard for data collection in the arts and cultural sector. The CDP offers a powerful online system that enables arts and cultural institutions to enter financial, programmatic, and operational data into a standardized profile. This profile, accepted by hundreds of participating grantmakers as the financial portion of their applications, also becomes part of a growing longitudinal national database of information on the performance of the cultural sector. Once part of the program, organizations can access a suite of tools and reports that are designed to increase management capacity, identify strengths and challenges, and inform decision-making. The data is also used by arts and cultural advocates, grant and policy makers, and researchers, to study, sustain and advance the sector.
In order to expand its reach and impact even further into the cultural community, the CDP is seeking a sophisticated, ambitious and entrepreneurial Director of External Affairs to serve as part of a successful leadership team. This individual will be responsible for developing and implementing fundraising strategies focused on institutional donors and strategic partnerships. The Director of External Affairs will develop goals and strategies that will ultimately expand the donor base and grow overall revenue for the organization. S/he will develop strong donor relationships and help develop the CDP's visibility and brand to ensure the long-range viability of the organization. S/he will also have the ability to assess the current systems and determine what changes are needed to improve the day-to-day functioning of the department and to achieve long-term goals. This position will report to the President and CEO and will be based out of the CDP headquarters in Philadelphia, PA.
For more information: http://driconsulting.com/CDP%20Position%20Overview%202013.pdf
6) Project Manager – Fairmount Park Conservancy – Philadelphia
Fairmount Park Conservancy is seeking a Project Manager who will be responsible to plan, execute and evaluate park projects. Working with Conservancy staff and the City of Philadelphia's Parks and Recreation Department, this will oversee the construction of park projects with local partners and community groups. They will manage timelines, budgets, and outcomes while ensuring quality control and meeting all applicable standards and requirements. They will coordinate with and oversee the work of planning and design consultants as well as construction and other contractors. The Project Manager will also assist with park stewardship initiatives such as volunteer workdays and Love Your Park events and preservation projects as needed. This position reports directly to the Conservancy's Senior Director of Preservation and Projects.
Primary Responsibilities
Work with Conservancy staff, Philadelphia Parks and Recreation, and partner organizations as well as community groups and residents to deliver excellent projects
Manage projects from planning to implementation
Develop detailed project plans including scope, goals, deliverables, budget and timeline
Manage all design, construction, engineering, etc. contractors
Ensure all projects meet applicable standards and regulations
Present project updates to key stakeholders on a regular basis
Create project reports meeting all internal and external requirements
When applicable, collect, organize and oversee documentation and special conditions needed to meet local, state, federal or other funding requirements
Conduct appropriate project assessment and measure project impact
Develop organizational tools and best practices for project management and execution
Maintain proper documentation and organized project files
Support Conservancy leadership in developing future projects, as well as organizational capacity and expertise
Support other Conservancy efforts such as events, park stewardship and preservation as needed
Qualifications
Bachelor's degree and a minimum of five years direct work experience in construction management, urban parks or related areas
Knowledge of project management best practices and standards
Ability to work and communicate effectively with government, funding and community stakeholders
Ability to work in a fast paced environment and manage competing priorities
Manage multiple tasks simultaneously in an efficient and timely manner.
Proficiently use Microsoft Office computer programs; project management software experience preferred
Valid driver's license
Ability to physically perform the duties of the position and to work in conditions required of a position in this type
Attend and participate in occasional evening and weekend activities
Interest in and commitment to the mission of the Fairmount Park Conservancy
How to apply
Please send a formal letter of interest, resume, three work related references and salary requirements attached as either PDF or Word documents to info@fairmountparkconservancy.org with "Project Manager" in the subject line.
Please, no phone calls or mailed applications. Deadline for application is February 18, 2014. Applications submitted after this date will not be considered.
7) Project Manager – Penn Institute for Urban Research – Philadelphia
The Penn Institute for Urban Research (Penn IUR) is a university-wide entity dedicated to an increased understanding of cities through cross-disciplinary research, instruction, and civic engagement. As the global human population becomes increasingly urban, understanding cities is vital to informed decision-making and public policy at the local, national, and international levels. Penn IUR is dedicated to developing knowledge in three critical areas: innovative urban development strategies; building the sustainable, 21st-century city; and the role of anchor institutions in urban places. By providing a forum for collaborative scholarship and instruction across Penn's twelve schools, Penn IUR stimulates research and engages with the world of urban practitioners and policymakers. For more information about Penn IUR, please visit www.penniur.upenn.edu.
Position Summary
The Project Manager will plan and implement Penn IUR's activities related to its grant-funded work on global urbanization. With a grant from the Rockefeller Foundation, Penn IUR is pursuing a number of activities aimed at investigating the dynamics of rapid urbanization in developing countries. Current efforts are focused on developing a research network of leading and emerging scholars in the developed and developing world.
In addition to Penn IUR's global urbanization activities, the Project Manager will assist with the planning and execution of Penn IUR's public events (conferences, lectures, expert events) that draw national, often international, audiences on timely urban topics such as physical and social urban development, sustainability and resilience, as well as global urbanization. The Project Manager will also write reports and articles to communicate to a variety of audiences the Institute's work on global urbanization and other topics as needed.
Responsibilities
The manager's responsibilities will also include:
Production of clear and actionable workplans and timelines reflecting obligations to foundations and other partners
Budget management as it applies to Penn IUR's global urbanization projects and grants
Planning and implementation of a research symposium on place-based strategies for sustainable urban development and other foundation-building activities for a global urban research network
Planning and outreach for additional Penn IUR's public events; developing marketing materials for these events; serving as liaison between Penn IUR, University Communications and other relevant bodies to ensure that media strategies are optimally implemented and potential audiences are notified
Performance of additional duties as assigned
Qualifications
A strong background in public policy, urban studies, international development or related field at the masters level is desired. Candidates should have 3 to 5 years of professional experience in project development and/or management. Must be able to work independently, but collaboratively as part of a goal-oriented team. Candidates must have excellent oral, written and interpersonal communication skills as well as an ability to work on multiple projects under deadline. Graphic communication skills preferred, including experience with Adobe Creative Suite. Knowledge of international urban development best practices, particularly those in developing countries such as China, India, and Africa is preferred. Experience working with foundations, academics, and other senior level executives (private, public, and non-profit) is a plus.
Terms and Compensation
This is a six-month, grant-supported position that may be extended in accordance with grant renewals and/or new grant awards. This position is a full-time, temporary, hourly position and is not eligible for employee benefits. Competitive hourly rate commensurate with experience.
To Apply:
Email a cover letter, writing sample, and resume to Amy Montgomery, Managing Director, Penn Institute for Urban Research at amylmo@upenn.edu.
The University of Pennsylvania values diversity and seeks talented students, faculty and staff from diverse backgrounds. The University of Pennsylvania does not discriminate on the basis of race, color, sex, sexual orientation, gender identity, religion, creed, national or ethnic origin, citizenship status, age, disability, veteran status or any other legally protected class status in the administration of its admissions, financial aid, educational or athletic programs, or other University-administered programs or in its employment practices. Questions or complaints regarding this policy should be directed to the Executive Director of the Office of Affirmative Action and Equal Opportunity Programs, Sansom Place East, 3600 Chestnut Street, Suite 228, Philadelphia, PA 19104-6106; or (215) 898-6993 (Voice) or (215) 898-7803 (TDD).
8) Summer Intern – Philadelphia Water Department – Philadelphia
The Philadelphia Water Department's Office of Watersheds is looking for an urban planning or public policy graduate student full-time intern for summer 2014.
Information about the work done by the Office of Watersheds can be found here: www.phillywatersheds.org
The intern will be part of the Strategic Policy & Coordination team, which develops programmatic policies and processes for the implementation of PWD's 25-year green stormwater infrastructure program, Green City, Clean Waters. This group also coordinates a variety of green infrastructure partnerships, addresses legal issues and funding issues necessary to implementation and tracks local, state and federal legislation relevant to the Water
Department's goals.
Expected Proficiencies:
– Knowledge of environmental planning, government administration and/or urban public policy issues
– Experience with site planning and mapping
– Strong writing and communication skills
– Policy analysis and legal analysis skills
– Economic analysis and real estate market analysis skills a plus
– Skills in GIS and Adobe Creative Suite preferred
Tasks:
– Create visually cohesive documents for our partners and executive staff
– Navigate planning documents, city codes and ordinances, policy analyses, green infrastructure programs and other relevant sources to glean relevant information and summarize for use by staff
– Perform policy and legal research and analysis to inform decision-making
– Create handouts, memos and powerpoints to use at meetings
– Develop programmatic policy recommendations for the green infrastructure program at the direction of supervisory staff
– Track water resource-related legislation as needed
Please send a resume, cover letter and writing sample (preferably showcasing a relevant topic) to Amy Liu at
Amy.Liu@phila.gov
The intern will be paid $15/hour
Due Date: March 10, 2014
9) Assistant/Associate Professor, Urban Design and Infrastructure Planning – College of Architecture and Design at New Jersey Institute of Technology – Newark, NJ
Professional Area:
Academia
Architecture
Facilities and Infrastructure Planning
Urban Design
Experience:
5-7 years
Location:
Newark, NJ
The College of Architecture and Design at New Jersey Institute of Technology (NJIT) invites applications for a full-time tenure-track appointment in the fields of Urban Design and Infrastructure Planning at the rank of Assistant or Associate Professor.
The successful candidate will be a designer with an accomplished record of scholarship and will demonstrate promising teaching and leadership abilities. She or he will be someone with vision and initiative capable of attracting research funding for multidisciplinary projects related to the design of cities. As the position is in Urban Design and Infrastructure Planning, it is expected that the applicant will possess a terminal degree in Architecture, Urban Design, or a related field and be an active contributor to current discourse in that field.
Priority will be given to candidates with technical expertise capable of engaging issues of infrastructure technologies while maintaining a broad perspective on the nature and implications of those technologies. Areas of focus could include Big Data, sensor networks, responsive environments, resilient systems, or other forms of performative design. Successful candidates will have clearly defined academic goals and possess demonstrable research experience in the form of peer-reviewed work and funded activities.
NJIT is a public research university in the Northern New Jersey/New York City Metropolitan Region and a 25-minute train ride from Lower Manhattan. Within NJIT, the College of Architecture and Design is the largest public architecture school on the East Coast with a committed regional design focus, supported by strong ties to local businesses and industries. The college's faculty work at a range of scales, from the nano- to the macro-, and are invested in pursuing new areas of research that will have significant impact on the future of the built environment.
Applications should include:
– Cover letter that addresses current and future research objectives, design approach, teaching philosophy.
– Curriculum Vitae
– Digital portfolio of design, research, and teaching work (file limited to 10 MB).
– Names and contact information for three professional or academic references.
Review of applications will begin on January 13, 2014.
Candidates are asked to apply online at https://njit.jobs under Position Number 0601860.
Please contact Jesse LeCavalier at jlc@njit.edu with any questions.
New Jersey Institute of Technology is an Equal Opportunity Employer.
10) Summer Internship – Partnership for Public Service – Philadelphia
Recognized by the Non-Profit Times as one of the top five non-profits nationwide, the Partnership for Public Service is a dynamic nonpartisan, nonprofit organization that works to revitalize the federal government by inspiring a new generation of Americans into federal service and by transforming the way government works. Through a combination of cutting-edge research, innovative legislative initiatives, leadership training and campus-based outreach programs, the Partnership advocates reforms to build a more effective government for the American people. We believe that good organizations start with good people, and we strive for excellence in pursuit of our mission through the values that guide our work:
Passion for public service and our work toward a more effective government
People who promote a culture of learning, leadership, collaboration, inclusion and respect
Persistence to drive change, take strategic risks and deliver results
Promise to be trustworthy, nonpartisan and fiscally responsible
Internship positions are available on a competitive basis for Penn students through the Partnership's Public Service Fellows Program. This is an opportunity for undergraduate students, graduate students and recent graduates to participate directly in transforming the way government works while developing valuable professional skills.
True to the Partnership's emphasis on people, these internships include opportunities for professional and personal growth through workshops and trainings specifically geared toward students and young professionals.
The Partnership strives to be an inclusive organization that fosters learning, collaboration and respect. We actively recruit for diversity in our workplace, believing that a range of backgrounds, perspectives and experiences contributes to our mission of revitalizing government. The Partnership is an equal opportunity employer and will not discriminate against any application for employment on the basis of race, color, religion, sex, age, national origin, veteran status, disability; or on any other basis prohibited by law.
More information here: http://publicpolicy.wharton.upenn.edu/student-opportunities/jobs/view/partnership-for-public-service-summer-internships/
11) Director of Lending and Training – Women's Opportunities Resource Center – Philadelphia
The Women's Opportunities Resource Center (WORC) is a nationally-recognized not-for-profit organization headquartered in Philadelphia that promotes social and economic self-sufficiency primarily for women, minorities, and dislocated workers. Its subsidiary, the Economic Opportunities Fund (EOF), is a certified CDFI which provides a wide range of financial products (microloans from $1,000 to $35,000). Our loan fund is capitalized at $1 million. To date, we have made a total of 435 direct loans totaling over $1.5 million. In addition, we have packaged 45 loans totaling more than $4.4 million as an intermediary for the SBA Prequalification Program. WORC was recently approved as an SBA microlender.
Over the next two years, EOF looks to expand its market base and increase its loan volume and capital deployed. We are looking for a professional that is committed to meeting the needs of this underserved market, has demonstrated experience scaling a microenterprise organization and is comfortable with providing services to a diverse population.
A strong background in micro and small business financing is desired. Individual should have existing contacts with local financial and economic development providers. Management experience is required. Experience with ACCION MMS is a plus.
RESPONSIBILITIES:
Manages and grows the Direct Lending Program including staff and consultant supervision, program marketing, new product development, portfolio performance, asset/liability management, financial projections and assumptions, underwriting, loan servicing, collections, community partnerships and program evaluation.
Responsible for loan portfolio quality and performance. Ensures compliance with portfolio standards e.g. those PAR 90 days + is less than 12% and annual write-off below 9%. Implements and monitors credit risk program including risk rating as well as identifying, measuring, controlling, monitoring the risks with periodic reporting to senior management and Board.
Coordinates and plans the Advisory Council and Loan Committee meetings by setting the agenda, preparing reports and documents, conducting the meetings and recording the minutes.
Oversees training and TA services to ensure quality service and compliance with contract goals.
Responsible for grant compliance and reports as needed for funders, Advisory Council or Board of Directors.
Member of senior management team – develops and implements EOF business plan/marketing plan.
Fundraising and capitalization – writes grants and secures funding and assists with implementing WORC's overall fundraising strategy.
Performs other related duties as required.
How to apply
Send cover letter and resume to careers@worc-pa.com.
12) Chief External Affairs Officer – Opportunity Finance Network – Philadelphia
Opportunity Finance Network (OFN), the leading national membership network of community development financial institutions (CDFIs), seeks an exceptional, strategic leader to serve as its Chief External Affairs Officer (CEAO).
Through its Member CDFIs and other partners, OFN helps create opportunities that benefit low-income, low-wealth, and other disadvantaged people and communities across the United States. OFN's core purpose—the reason it exists—is to align capital with social, economic, and political justice because it believes that justice for all begins with opportunity for all. OFN believes that aligning capital with justice will mean that all people have the resources to act in the best interests of their communities, themselves, and future generations.
OFN Membership comprises more than 225 performance-oriented, responsible financial institutions that lend to and invest in for-profit and nonprofit businesses, affordable housing, and consumers. Over the past 30 years, OFN's network has provided more than $30 billion in financing in urban, rural, and Native communities. With cumulative net charge-off rates of only 1.7%, OFN's Member CDFIs have demonstrated they can lend successfully and productively in markets that conventional financial institutions do not or cannot serve.
Reporting directly to the President and CEO and serving on the CEO's leadership team, the CEAO will manage OFN's public-facing work and position the organization for new opportunities.
The CEAO will run OFN's External Affairs Group, comprising Strategic Communications, Public Policy, and Development, and will manage the three OFN Executive Vice Presidents (EVPs) in this group. The CEAO will ensure clear, consistent messaging and communications across OFN; between OFN and its Members, investors, and funders; and to the media, marketing audiences, policy makers, and opinion shapers. S/he will serve as a spokesperson to diverse audiences on a wide range of topics and issues. The CEAO will also oversee select public-facing events.
This is an exciting opportunity for an accomplished executive with deep experience in communications, public policy, and/or development. The ideal candidate will bring proven experience in developing and implementing successful communication and advocacy strategies and functioning independently in public and private external settings. In addition, this candidate will be able to articulate OFN's vision in ways that galvanize CDFI funding support to both to fund OFN's programs and to raise OFN's public profile from a leader in the industry to a household name.
OFN is assisted in this recruitment by Isaacson, Miller, a national executive search firm. OFN proudly values diversity. Candidates from all backgrounds are encouraged to apply. All applications, nominations, and inquiries should be directed in confidence to Michelle Cruz-Williams, Vice President & Director, Leslie McCarthy, Associate, Isaacson, Miller, 263 Summer Street, Boston, Massachusetts 02210, Email: OFN@IMsearch.com. Electronic submission of credentials is encouraged.
Contact Us: OFN@IMsearch.com
PI70942006
How to apply
Contact Us: OFN@IMsearch.com
13) Director, Case Manager – People's Emergency Center – Philadelphia
The Director, Case Manager will provide leadership and administrative oversight to Emergency, Transitional and Post-Housing Case Managers. The Director, Case Manager, along with the Vice President, Social Services, will develop strategies and programs to meet the needs of PEC's mission, goals and objectives.
Essential Duties and Responsibilities:
Service Delivery
• Ensure PEC social service delivery is in compliance with the Office of Supportive Housing (OSH) case management standards and all required contracts
• In coordination with Social Services team, identify and provide in depth and frequent client assessments
Data and Contract Compliance
• Develop and monitor process for all client data which is to include, but not limited to: data entry into PEC's internal database (Cares.net), data accuracy: adherence to contractual (HUD, OSH and DHS) requirements and oversee bi-monthly activities which include intake and service plan updates
• Monitor required case note submissions for Emergency, Transitional, Post Housing and Department of Human Services (DHS) teen residents
• Manage client savings compliance as per OSH Contract
• Conduct monthly random file review of Emergency and Transitional Housing and DHS teens to ensure completeness of data entry; Identify process improvement areas
• Monitor completion of homeless status and income verification per the HEARTH act in Cares.net and file audits
Administrative
• Supervise and manage eight Case Managers: Four Emergency and Transitional Housing and four Post-Housing. Adhere to OSH, Philadelphia Housing Authority (PHA), Housing and Urban Development (HUD) and PEC's Social Services delivery model while ensuring the needs all residents living in PEC's Housing Continuum are being met
• Serve as Liaison for OSH
• Facilitate weekly case reviews with case management and program staff to review progress of all residents
Competencies:
• Client/Customer Orientation
• Constructive Conflict Skills
• Oral and Written Communications
• Organizing and Planning
• Performance Management
• Results Orientation
• Team Skills
• Leveling
• Talent Management Skills
Required Education and Experience:
• MSW degree and minimum of three years' experience in social services delivery and case management
• Proficiency with MS office programs: Word, Excel and Outlook
Additional Eligibility Qualifications:
• Knowledge of the complexity of poverty and women's homelessness, mental illness, trauma, substance abuse and the impact on individual and community health
How to apply
For immediate consideration for this position, forward resume to sscareers@pec-cares.org or fax resume to 267-777-5884 EOE/M/F/D/V
14) Planning Director – Bethlehem Township – Bethlehem Township, PA
Job Category Planning Management, Budgeting and Finance
Job Level Senior (8-10 years)
Salary Range Open
AICP Certification Preferred
Job Description
Bethlehem Township, Northampton County, Pennsylvania, a first-class township with a population of 23,000, is seeking a planning director. This is a professional supervisory position reporting directly to the township manager. Successful candidate must have comprehensive knowledge of local Pennsylvania planning, development, and land use policies, practices, and regulations. Director will represent township at public meetings and will manage staff of experienced professional inspection, building code, zoning, and construction officials.
Bachelor's degree, with at least 10 years of relevant experience, including supervision, required. American Institute of Certified Planners certification preferred. Competitive salary, excellent benefits.
Serious candidates should send cover letter and resume to dbruce@bethlehemtwp.com . Deadline is noon, Friday, February 28, 2014.
Township is an equal opportunity employer.
15) Director of Community Development – Lower Providence Township – Eagleville, PA
Job Level Senior (8-10 years)
Salary Range Open
AICP Certification Not Required
Responsible for code enforcement, planning and development, and zoning. This includes administering the enforcement of Township building, zoning, land development and subdivision as well as all follow-up work.
Essential Job Functions
• Plans, coordinates, and directs department activities to include the inter-related work of inspectors and coordinator staff. Prepares and recommends revisions and updates to the Township building, zoning, subdivision and land development ordinances and General Laws for Board of Supervisors review and approval.
• Prepares annual budget recommendations.
• Provides assistance to developers, builders and the public regarding the application and enforcement of Township zoning and development ordinances; provides information relating to development requirement and otherwise assists in the requirement of proposals prior to application.
• Reviews permit applications to ensure compliance with Township codes regulating building and land use; makes final decisions regarding permit issuance or denial.
• Administers building and zoning variance proceedings.
• Administers all incoming subdivision and development applications.
• Reviews final record plans to verify compliance for recording.
• Reviews developments in the field when necessary, to ensure compliance with approved plans.
• Tracks impact fees, deeds of dedications, and other construction improvement agreement items. Monitors developer escrow and financial security accounts.
• Recruits and retains businesses along commercial corridors. Member of Business Development Committee.
• Attends various Township board meetings as required.
• Supervises the investigations of complaints of building, zoning and general law violations; issuances of "stop work orders", citations as warranted and legal actions as needed.
• Maintains Township business license program.
• Updates and maintains permit applications and procedures for building, business development, code enforcement, planning and zoning departments.
• Performs other duties as required or assigned which are reasonably within the scope of the duties enumerated above.
Education, Experience and Training
• Requires knowledge, skill and mental development equivalent to the completion of four years of college with major courses in business or public administration, urban planning or other related field.
• Requires five years professional experience in Community Development, urban planning, construction, or comparable experience.
• Requires knowledge of Township building, development, general laws and zoning codes.
• Requires ability to interpret, explain and enforce Township building, development and zoning ordinances.
• Requires ability to read and interpret plans.
• Requires ability to review for accuracy completeness and conformance with applicable codes, ordinances and all documents submitted to the department for evaluation and/or approval.
• Requires excellent verbal and written communication skills.
• Requires ability to establish and maintain effective working relationships with Township officials and employees, members of the Planning Commission, Zoning Hearing Board, contractors, developers, business owners and the general public.
• Knowledge of the Pennsylvania Municipal Planning Code and Uniform Construction Code.
• Requires working knowledge of Geographical Information System (GIS).
Contact Information
Contact Name Geraldine Golas
Email ggolas@lowerprovidence.org
Postal Address 100 Parklane Drive
Eagleville, PA 19403
16) Planning Director – Borough of State College – State College, PA
Job Category Community Development and Redevelopment
Job Level Senior (8-10 years)
Salary Range DOQ
AICP Certification Preferred
Job Description
The Planning Director is a highly responsible administrative and supervisory position with the Department of Planning and Community Development.
This position is responsible for the administration of federal grants, short- and long-range planning for municipal facilities, land use regulations, economic and community development, and direct supervision of planning staff and enforcement officers.
In addition, the position involves the direction and enforcement of all programs concerning the quality of public health.
The position requires a high degree of exposure and responsibility to the public.
Contact Information
Contact Name Cynthia Hanscom
Phone 814-278-4704
Fax 814-231-3082
Email chanscom@statecollegepa.us
Website www.statecollegepa.us
Postal Address Borough of State College
243 South Allen Street
State College, PA 16801