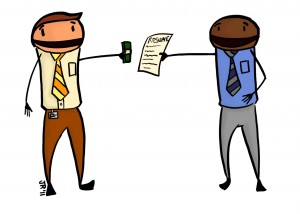 Light week for jobs, so jump on 'em!
1) Land Use and Transportation Specialist – Cross County Connection Transportation Management Association – Marlton, NJ
2) Program Associate – William Penn Foundation – Philadelphia
3) Manager – Job Opportunity Investment Network (JOIN) – Philadelphia 
4) Sr, Academic Coordinator – Drexel University – Philadelphia 
5) Hunger Relief Volunteer Coordinator – Klein JCC – Philadelphia
Full descriptions after the jump!
1) Land Use and Transportation Specialist – Cross County Connection Transportation Management Association – Marlton, NJ
Job Category Transportation Planning
Job Level Mid I (1-4 years)
Salary Range Open
AICP Certification Not Required
Job Description
Cross County Connection Transportation Management Association is seeking a full-time Land Use and Transportation Specialist. Cross County Connection is a non-profit Transportation Management Association, providing a broad range of services to residents, employers, employees and municipal and county governments in southern NJ. Cross County Connection's service area includes the counties of Atlantic, Burlington, Camden, Cape May, Cumberland, Gloucester and Salem. Cross County Connection's mission is to improve the quality of life in southern New Jersey through transportation solutions". This mission is accomplished by facilitating the use of commute alternatives, such as carpooling, public transit and bicycling.
This position reports to the Program Director and is responsible for implementing the organization's technical projects. The successful candidate will be responsible for the design, implementation and monitoring of transportation-related projects and programs. The Land Use and Transportation Specialist will also be responsible for reviewing and assisting junior staff with their assignments
The successful candidate's primary responsibilities will include overseeing Cross County Connection's Bicycle and Pedestrian Program. The Land Use and Transportation Specialist will work closely with municipal and county governments to assist them with the planning and implementation of projects and programs that facilitate the use of bicycling. Cross County Connection maintains a database of existing and proposed bikeways in southern NJ towards the goal of creating a region-wide network of bikeways. The successful candidate will work with municipalities and counties to update this inventory, rank and prioritize proposed bikeways and assist with grant applications to build proposed facilities. A strong knowledge of bicycle and pedestrian planning and Complete Streets is required.
The Land Use and Transportation Specialist will represent Cross County Connection at municipal and county meetings and participate on regional and statewide bicycle and pedestrian steering committees and attend other meetings as necessary.
As the need arises, the Land Use and Transportation Specialist will be assigned to other projects and programs, including, but not limited to:
• design, implementation and monitoring of shuttle bus routes ("last mile connectors")
• assisting municipalities with Sustainable Jersey Program
• design and implementation of employer-based commute programs
• provide customer service support to the general public requesting information on public transit services in southern NJ (NJ TRANSIT, PATCO and shuttle routes)
The Land Use and Transportation Specialist will interact with a broad-based constituency, including state, regional and local governmental agencies, private sector employers and the general public. Strong writing and speaking skills are required to interact with these constituencies.
Qualifications:
• Ability to work independently with initiative and creativity to move projects to completion
• Ability to interact with a diverse constituency
• Competency with spreadsheet and database applications
• Excellent research, analytical, writing and public speaking skills
• Master Degree in Urban & Regional Planning or related degree and/or experience
• Minimum of two to three years of professional experience
Work schedule Monday through Friday; 8:30 am to 5:00 pm. Competitive salary based on experience. Excellent benefits package. For more information regarding Cross County Connection, visit www.driveless.com.
Contact Information
Contact Name Ronda R. Urkowitz, P.P., AICP
Phone 8565968228
Fax 8569830388
Email urkowitz@driveless.com
Website www.driveless.com
Postal Address Cross County Connection
4A Eves Drive, Suite 114
Marlton, NJ 08053
2) Program Associate – William Penn Foundation – Philadelphia
The Foundation's programmatic investments are led by the team of Senior Program Officers. The Program Associates support the work across the three funding areas (Closing the Achievement Gap, Creative Communities, Watershed Protection), as well as Research and Analytics. The Program Associates work on projects as assigned by Senior Program Officers to meet the needs of the Foundation. Provide support on strategic projects and grantmaking across multiple programs and utilizing cross functional resources. Operate a tracking and reporting system of key projects; maintain a dashboard of critical milestones, reporting, and business indicators. Facilitate project planning, coordination, reporting, monitoring and communications, including administrative tasks necessary to ensure successful completion of the work. Quickly understand the substance of the materials. Prepare grant summaries for review by senior staff. Edit documents for clarity and consistency in approach and format. Conduct research as needed, obtain necessary information from program staff, and makes changes independently. Actively participate in operationalizing the program strategy (e.g., revising new applications and program guidelines, generating grant reports, etc.) under the direction of senior staff. This entails working closely with Program teams and Grants Management staff in assessing needs, understanding the substance of the work and information needed, and designing and analyzing reports and processes for implementation. Coordinate among Philanthropic Program teams to enable high impact work. Manage the execution of coordination tools, project plans, tracking mechanisms, calendar, etc. Manage planning, logistics, and preparations for critical meetings, including meetings with individual organizations and multi-stakeholder convenings. This may include scheduling and calendar management. Prepare agendas; review key documents for completeness, accuracy and consistency; and coordinate event logistics between various parties.
To Apply
Full Description and Qualifications: http://www.williampennfoundation.org/Employment.aspx?id=53
Send resume and letter of interest to:
Human Resources Consultant
William Penn Foundation
Two Logan Square, 11th Floor
100 North 18th Street
Philadelphia, PA 19103-2757
Email: wpfjobs@williampennfoundation.org
Fax: 215-988-1827
3) Manager – Job Opportunity Investment Network (JOIN) – Philadelphia
The Manager will be based at the United Way of Greater Philadelphia and Southern New Jersey, which convenes and manages the collaborative. Manage JOIN's federal and philanthropic grants, ensuring timely and accurate reporting of participantlevel data and financial statements Prepare and submit reports on program activities and progress toward overall program goals Prepare and submit fiscal reports for funders Liaise with United Way staff to prepare invoices for payment to grantees and external contractors Collaborate with JOIN grantees to ensure their programming matches JOIN's strategy and is constructively responding to evaluative feedback Lead recruitment and selection process for graduate and undergraduate-level fellows and/or interns Assign programmatic, research, and administrative support projects in collaboration with JOIN Director to graduate or undergraduate-level fellows and/or interns Contribute to the development and implementation of funding applications, new initiatives, and projects Continually enhance knowledge of best practice information in relevant education, workforce, and economic development topics vital to JOIN's agenda Closely coordinate with JOIN's evaluation partner to ensure goals of JOIN Investors and needs of JOIN grantees are met
Professional Qualifications Minimum Bachelor's Degree in related field, Masters Degree preferred Experience managing complex, multi-component programs, organizations or initiatives with demonstrated competence Record of working successfully in team environments Ability to see projects through from start to finish Experience in outcomes measurement preferred Ability to use databases to track information and other technology to support analytical and presentation High level of initiative and drive, with a strong sense of urgency and accountability
Highly organized, with a strong ability to manage and prioritize workload and projects Excellent written and oral communications skills
Proven ability to work in a collaborative manner, to interact well with a diverse range of stakeholders, and to constructively give and receive feedback Ability to work well under the pressure of deadlines Ideally a minimum of three to five years of experience
To Apply
For consideration, please apply directly online at www.UnitedforImpact.org. EOE.
4) Sr, Academic Coordinator – Drexel University – Philadelphia
This professional staff position serves a key role by supporting the implementation and assessment of the University Strategic Plan and by supporting the Office of Faculty Development and Equity, a unit of the Office of the Provost. This position has varied tasks which range in complexity from scheduling meetings to managing high-level projects and events. It requires a high level of interaction with offices across the University, including frequent contact with members of Drexel's senior leadership. It requires professionalism and excellent written, oral, analytic and organizational management skills. Experience with, and knowledge of, basic statistical analysis is helpful. Qualifications: Bachelor's Degree and one to two years of experience in an office setting required. Master's Degree helpful but not required. Proficiency in Microsoft applications including Word, Excel, PowerPoint, and Outlook required. The successful candidate will have strong written and oral communication skills, strong problem-solving skills, and be detail-oriented and able to work collaboratively. Familiarity with policies and procedures at Drexel University is highly desirable.
To Apply
Applications, which should include a cover letter and current resume, can only be accepted online at https://www.drexeljobs.com (search using keyword "Coordinator," then select "Coordinator, Academic SR").
5) Hunger Relief Volunteer Coordinator – Klein JCC – Philadelphia
Klein JCC's RSVP is looking for a Hunger Relief Volunteer Coordinator. This is a full time position (40 hours per week), with benefits, paid vacation, holiday and sick time. Interested candidates should apply below.
Please contact: Bill England, Project Director
RSVP Philadelphia @ Raymond and Miriam Klein JCC
10100 Jamison Avenue, Philadelphia, PA 19116
215-698-7300 Ext 191, wengland@kleinjcc.org
Hunger Relief Volunteer Coordinator
RSVP Philadelphia, at the Klein JCC, has an exciting opportunity for the right candidate with an understanding about senior food insecurity in Philadelphia and experience in volunteer recruitment and management. Hunger is a growing problem in our community, with nearly 1 in 4 at risk of food insecurity. For older adults, the situation can be compounded by mobility and transportation issues. Our solution: Cook For a Friend and Grow For a Friend, two programs that include volunteers preparing nutritious meals, and tending to gardens from which produce is donated for use in our cooking. The Hunger Relief Volunteer Coordinator will be responsible for implementing the "For-a-Friend" project that will engage more than 600 volunteers in assisting seniors to remain independent.
Principal Responsibilities
· Volunteer outreach, recruitment and planning for all three "For-a-Friend" projects (Cook, Grow and Fix), recruiting volunteers from the community,
organizations and corporations in the area;
· Expand the volunteer cooking groups in Center City, South Philadelphia, Germantown, West Philadelphia and other areas of the city;
· Work with partner organizations to expand home and community gardening and volunteers involved with home and community gardening;
· Oversee all volunteer functions for the Home Delivered Meal Program (familiarity good, not requisite);
· Oversee all volunteer functions related to food pantry partnerships including Feast of Justice, Mitzvah Food Project and other food pantries that partner with RSVP for volunteer recruitment;
· Work with Director of Community Services to implement creative strategies to increase awareness in the community about senior hunger, raise
necessary funds for program operations, and increase community collaboration
· Detailed description available upon request
Job Requirements
We are seeking someone with a minimum of a Bachelor's degree in a relevant field. This person should have substantial experience working with volunteers, preferably in a volunteer coordination position. Our ideal candidate will possess knowledge of food insecurity and its impact on the community. The candidate should have excellent written, public speaking and computer skills, proficiency with Microsoft Office. This person should have the ability to work independently. Access to a car and valid driver's license required. There will be some evenings and weekends hours.
Physical Requirements:
This position requires the ability to work in seated or standing positions for prolonged periods of time, perform work using the computer and telephone and other office tools. This position includes field work. Equal opportunity employer.