Registration is now live for APAPASE's annual event on Thursday, November 12th at 5 PM! Local experts at the intersection of planning, epidemiology &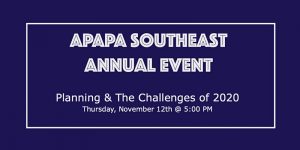 disaster planning, climate change, public health, and education will speak on how the events of 2020 (global pandemic, fight for racial justice and equity, changing economy, extreme weather events) are adjusting their approach to planning to address these challenges.
S
ee the full list of speakers and register online here!
This event is eligible for 1 CM credit.