October is National Community Planning Month!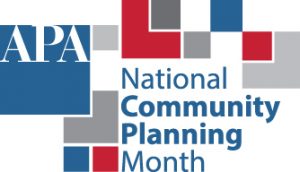 Planners work to improve the well-being of all people living in our communities by taking a comprehensive perspective. This approach leads to safer, resilient, more equitable, and more prosperous communities. We celebrate the role that planning plays in creating great communities each October with National Community Planning Month.
Planning is more important than ever as communities continue to navigate the disruptive changes brought about by the pandemic.
This year's theme — Planning Is Essential to Recovery — highlights how planning and planners can lead communities to equitable, resilient, and long-lasting recovery from the effects of the COVID-19 pandemic.
Join the conversation with #planningmonth.