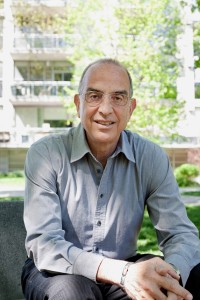 Ken Greenberg, architect, urban designer, teacher, writer, former Director of Urban Design and Architecture for the City of Toronto and Principal of Greenberg Consultants, will speak at 11th Annual Design on the Delaware conference, October 29 – November 1 in Philadelphia.
Mr. Greenberg has played a pivotal role on public and private assignments in urban settings throughout North America and Europe, focusing on the rejuvenation of downtowns, waterfronts, neighborhoods and on campus master planning, regional growth management, and new community planning. Cities as diverse as Toronto, Hartford, Amsterdam, New York, Boston, Montréal, Washington DC, Paris, Detroit and San Juan Puerto Rico have benefited from his advocacy and passion for restoring the vitality, relevance and sustainability of the public realm in urban life. Greenberg will present "City Building with Nature in Mind" on Tuesday, October 29 during the morning General Session.
Design on the Delaware, a conference presented in collaboration with APA Pennsylvania Chapter, AIA Philadelphia and other design organizations, offers 27 AICP CM approved programs including a 1.5 AICP CM Law and a 1.5 AICP CM Ethics credits. AICP sessions cover a range of planning topics including form based zoning, green stormwater infrastructure, Skyplane regulations, SITES rating system, and numerous programs focused on Philadelphia urban and suburban projects. Planners can earn up to 25 AICP CM at the conference.
APA members are entitled to the discounted member registration. Registration for October 29 & 30 is just $265. October 31 and November 1 programs are individually priced ranging from $25 to $50. Registration available for one day, two days and individually priced items. Early discount registration ends midnight, October 4. Go to www.designonthedelaware.com for conference details and registration.
Design on the Delaware is a collaborative conference examining the issues and opportunities of the built environment. In its eleventh year, the conference offers 36 continuing education programs, 12 tours, 2 general sessions, trade show and social events for planners, architects, landscape architects, engineers, contractors and other design/building professionals.
The conference is presented by AIA Philadelphia, in conjunction APA Pennsylvania, ASLA Pennsylvania Delaware and 21 other professionals associations. Planners, architects, landscape architects, engineers and other related professionals serve on the conference committee which is responsible for designing the conference content. Recognizing the collaborative nature of the design and building process, most programs feature a panel of presenters representing various design and building professions. Contact Pat Gourley at pat@aiaphila.org for more information or for exhibit and sponsor opportunities.