"Embracing Change: Empowering Your Community's Revitalization Effort"
Pennsylvania's Premier Revitalization Conference
Location:  Chester County Historical Society and Uptown! Knauer Performing Arts Center, Downtown West Chester, PA

Dates:  June 3rd through 6th, 2018
Opening Keynote Speaker:  David Greene, host of NPR's Morning Edition
Closing Keynote Speaker:  Philip J. Merrill, CEO and Founder of Nanny Jack & Company, an African American heritage consulting business

As Pennsylvania's program coordinator for the National Main Street Center, a subsidiary of the National Trust for Historic Preservation, Pennsylvania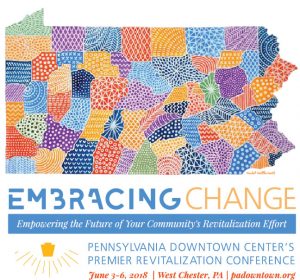 Downtown Center will host its annual statewide conference June 3-6, 2018, in West Chester, PA, with the theme – Embracing Change – Empowering the Future of Your Community's Revitalization Effort
We anticipate 250 or so attendees not only from Pennsylvania but also from neighboring states of Delaware, New Jersey and even parts of Maryland who represent downtown organizations, municipalities, heritage groups, preservation advocates and other community revitalization professionals.
Throughout the four days we'll hear from state and national leaders and we'll discuss new partnerships for creating more entrepreneurial and equitable communities with a focus on innovation, technology, diversity in all its forms and constantly evolving life style preferences. We'll explore how we shop, how we play, how we engage in our communities and how we interact as a society.
Our concurrent sessions will take place mostly at Uptown! Knauer Theatre and our meals, plenary, and exhibitors will be at the Chester County Historical Society. Mobile tours are also on the schedule both in West Chester, neighboring Kennett Square, and Phoenixville.  We are pleased that our annual awards gala, the Townies, will be in Sykes Hall at West Chester University on Tuesday evening, June 5th.
Find out more at https://padowntown.org/conference
Early Bird rates through April 27, 2018
#pdcwestchester2018
#embracingchange2018