PrideScapes Summer Speaker Series
Celebrate Pride with OLIN Labs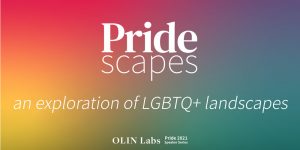 !
To kick off the initiative, OLIN Labs is hosting a virtual three-part panel series that coincides with Pride month and invites critical conversations between landscape architects, designers, urban planners, artists, and historic preservationists working on LGBTQ+ discourse and projects related to the increased representation and visibility of LGBTQ+ spaces in the built environment.
Join us June 3rd, 10th, & 17th!
Discussion topics include Landscapes & Pandemics: The Inequities of AIDS & COVID-19, Preserving & Interpreting LGBTQ+ Landscapes: Making an Invisible History Visible, and LGBTQ+ Memorials: Design and Remembrance in the Landscape.
The PrideScapes Summer Speaker Series is free and open to the public! You will receive an email confirmation upon registration, and a password-protected Zoom Meeting link will be emailed to you the day of the presentation.