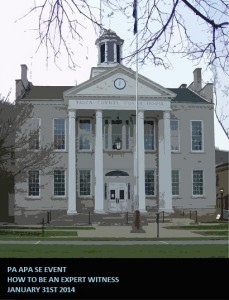 NEW TIME AND REDUCED COST!
New Years Resolution: Log CM credits more often! The "How to be an Expert Witness" session is being offered at a reduced cost. Neil Sklaroff, Esq, from Ballard Spahr will be moderating a panel of experienced attorneys and planners. The four month grace period for AICP credits ends on April 30th 2014. This is an opportunity to earn your legal credits before the deadline or take care of them early in the reporting period. 
Register by January 17th
Registration includes a bound reference guide that has been updated by the panel members
Location: DVRPC: 190 North Independence Mall West – 8th Floor, Philadelphia, PA 19106
8:00 AM: Registration & Breakfast
9:00 -10:30 AM: Program
$15 for APA-PA members & students
$20 for non-members / Late Registration
1.5 AICP LAW Credits Approved
CLE Credits Approved
Neil Sklaroff, Esquire, Partner, Ballard Spahr (Moderator)
Neil Sklaroff focuses on zoning and land use, real estate tax appeals, eminent domain and condemnation, and real estate and administrative law. Mr. Sklaroff represents the developers of many of the Philadelphia region's high-rise residential condominium projects, museums, hospitals, universities, science centers, telecommunications providers, and retailers.
Dennis F. Glackin, AICP, PP
Mr. Glackin has a comprehensive background in land use planning and development, including all phases of zoning and land development. He has been recognized as an expert witness in planning before numerous courts, zoning hearing boards, boards of view, municipal governing bodies, and planning commissions, and has represented clients before various state environmental and transportation departments.
Charles Guttenplan, AICP, PP
As a land planning consultant, Charlie has represented and given expert testimony for a wide variety of clients, including many municipalities, and on the private sector side, the Devereux Foundation, BET Investments, the American Revolution Center, LFT Realty Group, Tornetta Realty Corp. and Tornetta Properties, Inc., Franklin Realty Development Corp., Trinity Capital Advisors, Realen Properties, Inc., and the Tinicum Land Group, LP.  Charlie currently is Director of Planning & Zoning for Whitemarsh Township; he continues to take occasional consulting assignments when time permits and serves as an adjunct in Temple University's Community and Regional Planning Department."
Marc D. Jonas, Esq. Eastburn and Gray; Chair, Montgomery County Planning Commission
Marc is Co-chair of Eastburn and Gray's Real Estate and Land Use practice group.  He serves as Solicitor to Kennett Square Borough, Narberth Borough, and Marlborough Township; and as Solicitor to the Zoning Hearing Boards of Upper Merion, Towamencin, and Lower Salford Townships. He has extensive experience in real estate, land use, and municipal law, representing individuals, businesses, and municipalities. Marc has been qualified as an expert witness in zoning law in the Court of Common Pleas of Montgomery County.  He has authored articles and has lectured on topics in land use law. He has been recognized by his peers as a Pennsylvania Super Lawyer and recently was selected by U.S. News as a 2014 First Tier "Best Lawyer" in both Land Use and Zoning Law and also Litigation – Land Use and Zoning for the Philadelphia Metropolitan area.  He is Chair of the Montgomery County Planning Commission Board.
Carl S. Primavera, Partner, Klehr, Harrison, Harvey, Branzburg
Carl S. Primavera, acknowledged as one of the area's premier zoning and land use attorneys, serves as Chair of KHHB's Zoning and Land Use Group. He has written and lectured extensively on a variety of topics including zoning and land use, real estate development, real estate tax assessments, the appeals process, and litigating real estate disputes. Carl works closely with architects, engineers and construction professionals to achieve his clients' goals quickly and efficiently and has the skills to navigate the bureaucratic maze which surrounds the development of real estate in both urban areas and outlying suburban communities.