APAPASE participated in the successful Future City Engineering Fair at SAP America in Newtown Square, PA on Saturday, October 13. Our booth had some terrific information about climate change and sea-level rise, as this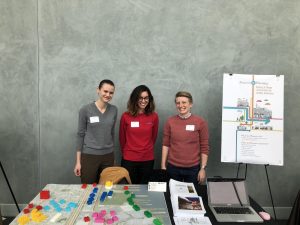 year's competition theme is Powering our Future, how to build a resilient power grid. A hands-on land use activity was used to encourage students to incorporate city planning into their projects for the 2019 Future City Regional Competition. Using sea-level rise information displayed on the NOAA web map, students were asked to organize land uses (represented by Lego blocks) on a map of the Philadelphia Pennsport neighborhood. The children loved the learning activity, and some wowed our volunteers with their creative and thoughtful land use planning. Students also picked up articles from the APA Planning magazine August/September special issue on climate to aid them in their research. A special thank you to our volunteers!
APAPASE booth at the Future City Engineering Fair on October 13, 2018 at SAP America. Our volunteers from left to right: Addison Larson (DVRPC), Karen Whitaker (DVRPC), and Al Beatty (DVRPC). APAPASE Engagement Committee members John Federico (Urban Engineers, not featured above) and Karen Whitaker organized and prepared the materials for the activity.
Mentor Opportunities
Also, Future City Philadelphia is still looking for mentors for the following middle schools in the Greater Philadelphia region:
Agora Cyber Charter School – Phoenixville, PA

Centennial School District – Southampton, PA

Charles Boehm Middle School – Yardley, PA

Elizabethtown Area School – Elizabethtown, PA

ET Richardson Middle School – Springfield, PA

Fleetwood Area Middle School – Fleetwood, PA

Gwynedd Mercy Academy Elementary School – Spring House, PA

Little Town Christian Robotics Academy – Chester, PA

Maria Kaupas Academy – Scranton, PA

Mill Creek Elementary – Warrington, PA

Mother Teresa Regional Catholic – King of Prussia, PA

Mount Aviat Academy – Childs, MD

New Hope Solebury Middle School – New Hope, PA

St. Albert the Great School – Huntington Valley, PA

St. Elizabeth Parish School – Uwchlan, PA

St. Mary Interparochial School – Philadelphia, PA

St. Peter's School – Philadelphia, PA
For more information about your role as a mentor go to: https://futurecity.org/participants/mentors.
For more information on mentoring, please contact: Mike McAtee at mjmcatee@urbanengineers.com.