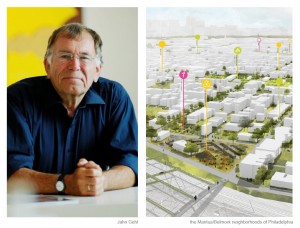 2016 Edmund N. Bacon Awards + Reception
Honoring Jan Gehl and the winners of the 2016 Better Philadelphia Challenge
Presented by the Philadelphia Center for Architecture @ Drexel University's LeBow Hall | 3220 Market St
Thursday, February 25th, 2016
5:15pm – 6:15pm | VIP Reception | 2nd Floor (requires VIP ticket @ $150)
6:30pm – 7:45pm | Awards Ceremony + Conversation with Jan Gehl | Basement Level Theater
7:45pm – 8:30pm | Coffee + Dessert Reception | 2nd Floor
On Thursday, February 25th, join the Center for Architecture in honoring Jan Gehl, winner of the 2016 Edmund N. Bacon Prize for his career spent advocating for the design of active, healthy, inclusive places. Gehl is founding partner of Gehl Architects and has published several books on designing cities.  On stage, Jan will join in conversation with the Philadelphia Inquirer's architecture critic, Inga Saffron.
Also honored at this ceremony will be the winners of the 2016 Better Philadelphia Challenge. This year's urban design challenge focused on Philadelphia's Mantua and Belmont neighborhoods and how they might be developed to encourage healthy and active lifestyles, thereby improving public health among residents.
The ceremony and conversation will begin at 6:30 PM and will be followed by a coffee and dessert reception.  The event is located at Drexel University's LeBow Hall on 3220 Market Street.
A special discount code is available for APA members:  APA16 (for general admission tickets only)  You may purchase tickets here.
For more information about the competition and awards, please visit:http://www.philadelphiacfa.org
Please use the following discount code to reserve your tickets:
Please visit our 2016 Edmund N. Bacon Awards Ticketing Page
Select the number of "General Admission" tickets you are reserving and click "CHECKOUT"
Fill out your name and email address at the top of checkout page
Underneath the Credit Card info section, find and click on "Have a discount code? Click Here"
Enter code APA16 and click "APPLY"
Fill out your mailing address
Fill out the required information for each attendee (demographic information is required for reports to our foundation grantors)
Click the "Checkout" button on the right side of the page
On the next page, you may download each ticket (or all tickets) to print, or you may email tickets to attendees using the "SEND TO…" button next to each ticket
Promo code:  APA16
2016 Edmund N. Bacon Awards Ticketing Page (Select General Admission)
Discounted ticket price will be $15 instead of $22