Learn about the MS City and Regional Planning at Temple University during our Information Session on February 20, 2018. The program has two concentration tracks in Sustainable Community Planning and Transportation Planning. Both are areas of expertise that are in wide demand in the greater Philadelphia region as well as across the country and globe. Accredited by the Planning Accreditation Board since 2012.
Stay for the Meet and Greet with MS CTRP students.
Information Session: 6:00-7:00 pm
Meet and Greet: 7:00-7:30 pm
Location: Temple University Center City Campus
1515 Market St.
Room 222
Philadelphia, PA 19102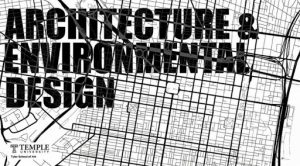 The application deadline for Fall 2018 is March 1, 2018.
Department of Planning and Community Development, Tyler School of Art, is housed in the Division of Architecture and Environmental Design along with allied programs in Architecture and Landscape Architecture.