DVRPC is accepting applications for their Fellowship program! The deadline to apply is April 15, 2022.
Click here for more information
What is DVRPC's Fellowship Program?
The Delaware Valley Regional Planning Commission (D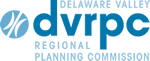 VRPC) Fellowship Program provides an opportunity to learn about urban and regional planning by serving in various departments at the Commission over the course of a year. DVRPC is committed to supporting a pipeline of talented individuals from historically and currently underrepresented communities into urban and regional planning and related fields, such as Geographic Information Systems (GIS), project management, policy analysis, or capital programming. The selected fellow will participate in the daily activities of a Metropolitan Planning Organization (MPO), complete specialized projects, and experience firsthand how regional and local plans and investments are made in the Greater Philadelphia region. The fellow's specific department and project assignments will be determined based on a combination of the selected candidate's specific skills and interests, and DVRPC project needs.
DVRPC is a place to work, learn, and create a career in a professional and stimulating environment that values diversity, innovation, and bringing your best self to work. The DVRPC Fellowship is a paid, year-long, full-time, professional development program that begins July 2022 through June 2023.  The Fellowship will aid in preparation for graduate school or a successful career in planning or a related discipline. There will be one fellow at a time. If there is mutual interest and applicable work assignments, the chosen Fellow may be extended for an additional year. No fellowship will continue for more than two years.