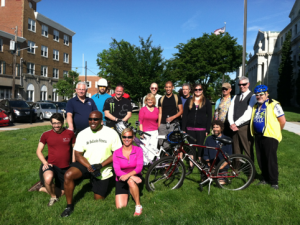 It was a picture-perfect, cool and sunny spring morning when dozens of cyclists left their cars at home and rode their bikes to work in Media instead in celebration of Bike to Work Day.
On Friday, May 17, the Delaware County Transportation Management Association (DCTMA) and the Delaware County Planning Department partnered up for Bike to Work Day, drawing County employees and other bicyclists from as far away as Upper Darby. Cyclists enjoyed refreshments during the morning celebration held outside the County Courthouse. Franklin Mint Federal Credit Union was the main sponsor with Wawa, Trader Joe's, and Main Line Water providing water, orange juice, and fresh fruit. Participants also entered into a special raffle for prizes donated by local businesses.
About 20 bicyclists made their way into Media, including at least six County employees. Four of those were employees of the Delaware County Planning Department : Justin Dula, Manager of County and Regional Planning; Alex John, Transportation Planner; Dan Seaton, Geographic Information Systems and Information Specialist; and Tom Shaffer, Manager of Transportation Planning (plus Zach Barner, Environmental Planner, who skateboarded to work).
Justin Dula had the longest ride, from Upper Darby – almost 10 miles each way and taking about an hour to complete. Having participated in Bike to Work Day for many years, Justin has developed a route from Upper Darby to Media that avoids most of the heavily travelled roads with no shoulders. In fact, he has plenty of knowledge of "bicycle-friendly" roads in the area, as he was the principal author of the County's Bicycle Plan, which was adopted in 2009.
The DCTMA and Planning Department have sponsored Bike to Work Day since 2001. This year, two of the DCTMA's employees biked to work. The DCTMA and its Bicycle Committee have taken on a key role of implementing the recommendations of the Bicycle Plan. DCTMA and DCPD's partnership on Bike to Work Day has been successful at drawing attention to this environmentally friendly and healthful mode of travel.
This blog post is adapted from the 17th issue of Delaware County's Planning Matters Newsletter.  Check out this newsletter and the archives for other great planning articles from DelCo! If you would like to be added to the Planning Matters subscription list so that you can receive the latest news about planning and development in Delaware County electronically, please contact Ron Aquilino, Data & Systems Coordinator, at aquilinor@co.delaware.pa.us with a request to subscribe.