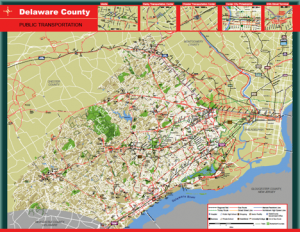 A significant portion of Delaware County is served by SEPTA, which means that most County residents have access to a reliable transportation network to meet most of their transportation needs. In consideration of this fact, the Delaware County Planning Department has completed the 3rd edition of the Delaware County Public Transportation Map and Guide, which serves as a reference to SEPTA's public transit system in Delaware County.
One side shows a map of all bus, regional rail, trolley, and high-speed rail services in Delaware County and certain routes in neighboring Chester and Montgomery Counties and the City of Philadelphia. The map also shows the locations of colleges, shopping centers, hospitals, state and county government office buildings, business centers and office parks, hotels and motels, senior care facilities, and parks and trails. Detailed inset maps show Media, the Darby and Chester Transportation Centers, the 69th Street Transportation Center, and Center City Philadelphia.
The other side provides a guide to transit fares, regional rail stations, and all bus routes serving Delaware County. Information includes the frequency of bus service (the time between successive buses), the number of parking spaces at train stations, bicycle parking at regional rail stations, parking permit requirements, ticket and pass prices, and on-board bicycle policies. There is also information provided for other regional transit partners (Amtrak, DART First State, New Jersey Transit, Delaware County TMA, and PATCO).
DCPD is delivering the maps to municipal government offices, libraries, major businesses, colleges and universities, high schools, hospitals, malls, hotels, SEPTA, nursing homes, and senior care facilities within Delaware County. To receive a free copy of the transit Map and Guide, please contact Alex John, Transit Planner, at 610-891-4396 or johna@co.delaware.pa.us. Download a PDF of the Map and Guide from the County's website: www.co.delaware.pa.us/planning/transportation/publictransmapandguide.html.
This blog post is adapted from the 17th issue of Delaware County's Planning Matters Newsletter.  Check out this newsletter and the archives for other great planning articles from DelCo! If you would like to be added to the Planning Matters subscription list so that you can receive the latest news about planning and development in Delaware County electronically, please contact Ron Aquilino, Data & Systems Coordinator, at aquilinor@co.delaware.pa.us with a request to subscribe.