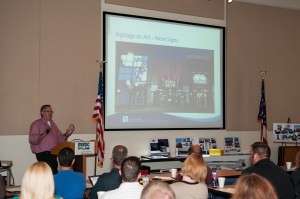 Planning for Sign Code Success
Thursday, December 10, 2015
Breakfast/registration: 8:30 AM
Event: 9:00 AM – 4:00 PM
Coming up with reasonable and enforceable sign codes can often be a complex and controversial process. With so many community stakeholders caring about sign codes, it is important to get the most accurate, up-to-date information and expertise as possible. The seminar will present modules that educate on the technology within signs, sign code issues, understanding electronic message centers, and the importance of signs to business. In light of the new challenges imposed by the recent Supreme Court Reed ruling, attendees will be presented with important interim and permanent policy changes to bring municipal ordinances into compliance with the Court's new precedents. Local planners will present on the development and implementation of the Montgomery County Model Sign Ordinance.
Attendees also will learn the latest technologies, controls, impacts and regulatory issues involved with on-premise signs. They will learn how sign construction and design is affected by building and electric codes, as well as energy efficiency and lighting science concerns. Attendees will be instructed in the technologies involved in electronic message centers and ways to control their use. Attendees will understand the impacts of well-designed signage on local small business. Finally, participants will be provided with resources available in model on-premise sign codes.
6 AICP CM credits requested (including 1.5 LAW)
Delaware Valley Regional Planning Commission (DVRPC)
190 N. Independence Mall West (American College of Physicians Building)
8th Floor, Main Conference Room
Philadelphia, PA 19106
To register: http://www.eventbrite.com/e/planning-for-sign-code-success-tickets-19623827396?aff=es2
8:30 a.m. Registration/Check-In and Continental Breakfast (included)
9:00 a.m.
Introduction to Sign Technologies and Construction  David Shapiro, Triangle Sign & Service (Baltimore, MD)
Development & Implementation of the Montgomery County Model Sign Ordinance  Marley Bice, AICP (MCPC) & John Ernst, AIA (Borough of Lansdale)
Sign Regulations in a Post-Reed v. Gilbert World  Kenny Peskin, International Sign Association (Alexandria, VA)
12:15 p.m.–12:45 p.m. Lunch (included)
12:45 p.m.
Electronic Message Centers: Finding Common Ground Deacon Wardlow, Spectacular Media (Denver, CO)
Best Practices for Return on Investment, Sign Design, and Sign Code Development  Craig Berger, Chair of Visual Presentation and Exhibition Design Program, Fashion Institute of Technology (New York, NY)
Legal Issues in Sign Regulation  Kenny Peskin, International Sign Association (Alexandria, VA)
4:00 p.m. Conclusion