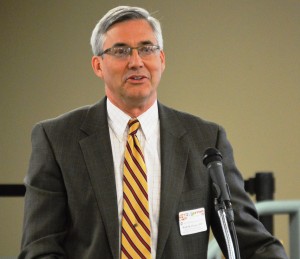 WEST CHESTER, PA _ The Chester County Commissioners have appointed Brian O'Leary AICP as Executive Director of the Chester County Planning Commission. He joins the County on October 5th and replaces Ronald Bailey who retired earlier this year.
O'Leary has nearly 30 years of public planning experience with Montgomery County Planning Commission, and his move to Chester County follows 16 years as Section Chief for the Commission. Brian also serves as President of the Board of Directors of the Pennsylvania Chapter of the American Planning Association and as a government representative board member of the Delaware Valley Smart Growth Alliance.
"We are pleased to appoint someone who has such an extensive background in public planning in Pennsylvania municipal government, as well as someone who is so highly respected within his professional community," said Chester County Commissioners' Chair Terence Farrell.
O'Leary was responsible for the development of Montgomery County's new comprehensive plan Montco 2040, A Shared Vision. Many county government planning projects that have been managed by O'Leary have received state and national awards, including the new comprehensive plan, as well as his work on transitions to residential neighborhoods, workforce housing and mixed use developments.
Commissioner Kathi Cozzone noted, "Brian's experience in the development and management of county comprehensive plans, his collaboration with many community stakeholders and his leadership of public outreach efforts on planning issues will serve Chester County well as we approach the point where we need to begin the process of reviewing and updating our Landscapes2 comprehensive plan."
Commissioner Michelle Kichline added: "We appreciate the expertise that Brian has gained in overseeing Montgomery County's farmland preservation program – knowledge that is critical as we continue to support open space and farmland preservation in Chester County.
"We also thank David Ward for his leadership as interim director of the Planning Commission, as well as the staff for their work in providing many high quality programs and services to the citizens of Chester County."
Chester County is the first county in Pennsylvania to initiate a strategic planning process and has a Aaa rating on its bonds from Moody's Investors Service as well as AAA ratings from Standard & Poor's and Fitch Ratings. Established by William Penn as one of Pennsylvania's three original counties, Chester County has been named by Forbes.com as one of America's best places to raise a family and is ranked one of the healthiest counties in Pennsylvania by the Robert Wood Johnson Foundation and the University of Wisconsin Population Health Institute.