Connect the Dots, a Philadelphia- and Dublin-based civic engagement group, equitable engagement, and design thinking specialist agency, is teaming up with Project for Public Spaces, a leader in public space development and placemaking having completed projects in more than 3,500 communities in over 50 countries and all 50 U.S. states.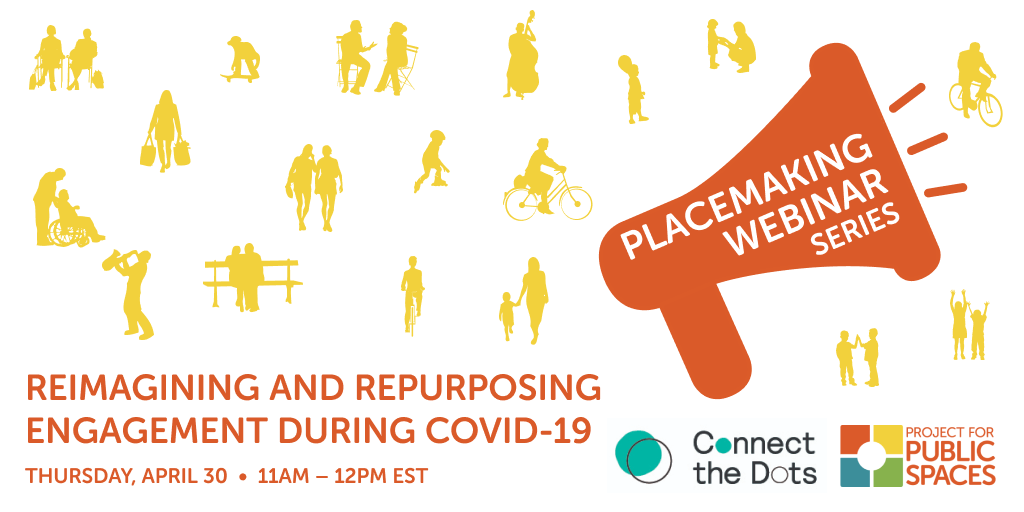 April 30th @ 11am EST
Register at https://register.gotowebinar.com/register/9192592714748597776
This webinar will feature a conversation featuring a variety of perspectives, tools and experiences related to engagement practices considering the difficulties posed by COVID-19.
As a result of what's happening now, how will engagement evolve moving forward?
How are communities included in the recovery process?
What can we do to better inform our practice?
This international conversation comes at a critical time, as the world's inhabitants share an unprecedented experience, from billions of individual perspectives. While commonalities exist, respect for diversity and equity is the key to creating solutions that work on a massive scale.
After pulling questions in advance from registered participants, we will look at sharing best practices that can be applied to a range of contexts, and why, instead of putting engagement on hold, it is more important to do what we can right now.