Southeast Section Hosts 2019 Annual Event on Housing
On Thursday, November 14, 2019, the Southeast Section held their yearly event, bringing together about 30 planners from Philadelphia and the region – including private sector, public sector, and students – to network and share ideas. The event was held in the historic MAAS building in the revitalizing Kensington neighborhood of Philadelphia. The building, originally built in 1859 as the Charles Maas Brewery, later became a trolley car repair shop for the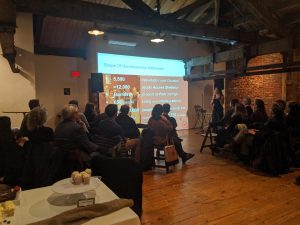 Girard Street trolley line. After falling into disrepair in the late twentieth century, the building was recently revitalized using reclaimed materials and modern technology to serve as an arts and events space. The venue's varied past and recent revitalization (as well as its cozy size) made it an appropriate setting for discussing the topic of sustainable architecture and housing trends.
Justin Dula, Chair of the Southeast Section, welcomed attendees and announced that this would be his last event as Section Chair before turning the position over to current Vice Chair Alexis Williams in January. Rebecca Ross of the Delaware County Planning Department introduced the speakers and moderated discussion at the end of the presentations. Robert Fleming, architect and Founding Director and Professor of the Sustainable Design Program at Thomas Jefferson University, started with a broad overview of the need for sustainable design and the challenge of convincing the public of its value. In his presentation, Professor Fleming emphasized that he believes sustainability lies at the intersection of People, Profit, Planet, and Place. This is an update to the triple-bottom line concept, suggesting the role that quality design can play in sustainable development. The next speaker was Stephanie Sena, the Founder and Executive Director of Student-Run Emergency Housing Unit of Philadelphia (SREHUP) a non-profit homeless shelter operating since 2011, and The Breaking Bread Community, an affordable Housing Initiative, which builds houses, community centers, community gardens, and art installations for people in poverty and their pets. She spoke about her organizations and her most recent project to build "cozy cottages" at affordable prices for formerly homeless individuals. Finally, Brett Madsen spoke on the challenges of permitting innovative housing projects – such as tiny homes – under the current Philadelphia code and permitting process. Brett is a licensed expediter with years of experience in Philadelphia, and his firm, Permit Philly, manages the Philadelphia permit process for clients from the first call to the issuance of the certificate. Speaker presentations are available here and a shared album of event photos can be found here (feel free to add yours if you attended!).
The presentations rounded off with a panel discussion with questions from the audience. While mingling and networking, attendees also enjoyed gourmet snacks and desserts from Seedling and Sage catering. Student architectural works from the Charter High School for Architecture and Design (CHAD) were on display for the viewing (and tactile!) enjoyment of the attendees. It was another successful event to wrap up an exciting year of planning in Southeast PA!