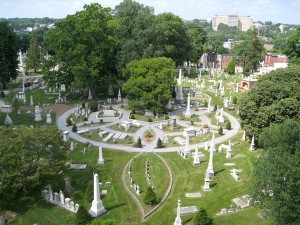 Join APAPASE's Emerging Professionals for a guided tour of Philadelphia's historic Laurel Hill Cemetery on Sunday September 22nd at 2pm.
The tour will last approximately two hours and will cover a variety of topics, including the place of cemeteries in the developing city, the symbolism of monuments, the importance of cemeteries for sanitation purposes, the use of cemeteries as public parks and how Laurel Hill in particular was a first step towards the creation of what has become the Fairmount Park system. Laurel Hill is also the resting place for such prominent Philadelphians as Rittenhouse, Widener, Elkins and Strawbridge.
The cost of the tour will be $17, which goes towards historic preservation at the cemetery.
Remember to wear comfortable shoes!
Register for the event at: https://laurelhillcemeterytour.eventbrite.com/
Laurel Hill is located at 3822 Ridge Avenue. For those who drive to the event, here is parking information. If you would like to take public transportation to the event, a group of us will be meeting at 9th and Market at 1pm to take the 61 bus to the cemetery. The 32 bus also runs near the cemetery.