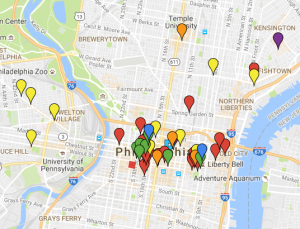 For the 9th year in a row, Philadelphia will celebrate PARK(ing) Day. This year, PARK(ing) Day falls on Friday, September 16, 2016. PARK(ing) Day is a worldwide annual event that started in San Francisco in 2005, when people transformed metered parking spaces into temporary public parks. The event raises awareness about the need for more pedestrian-friendly spaces in urban areas—in small 170 square foot spaces all across the world. A variety of non-profit institutions, community development organizations, academic institutions, and private companies—including many planning agencies and companies—participate in setting up these colorful, temporary parks. To view a map of where Philadelphia spots are, visit http://www.parkingdayphila.org/interactivemap. There are over 36 spots in Center City alone. To learn more about the event, visithttp://www.parkingdayphila.org/ or visit the global Park(ing) Day website at http://parkingday.org/. You can also follow along on Twitter at @parkingdayphila.
Participating Organizations, as categorized by Parkingdayphila.org (as of 8/30/2016):
City + Planning
Philadelphia City Planning Commission
Delaware Valley Regional Planning Commission
Built Environment
PARK(ing) Day Philadelphia HQ
JMT
Architecture Demarest
Land Collective
Gilmore & Associates, Inc.
EwingCole
Sowinski Sullivan Architects
LRK Inc.
Gensler
SMP Architects
HOK
Bohlin Cywinski Jackson
E&LP Associates
Spiezle Architectural Group, Inc.
KSS Architects
Lammy + Giorgio
Langan Engineering
NELSON
CICADA Architecture/Planning, Inc.
Postgreen Homes
Arts + Crafts Holdings
OLIN
Community + Neighborhood
Valley Youth House
Berwyn Center
People's Emergency Center (x3)
PhillyCAM
Space 1026
Friends Center
Free Library of Philadelphia & Rodriguez Neighborhood Library
Repair the World
Greener Good
EPA
Zipcar
Tyler Arboretum
Philadelphia Recycling Rewards
The Clean Air Council
Fairmount Park Conservancy and Philadelphia Parks & Recreation
SEPTA
Schools + Universities
University of the Arts, School of Design
Rec 4 Life Association
Philadelphia University & Thomas Jefferson University
Charter High School for Architecture + Design
Businesses:
Reading Terminal Market
Reanimator Coffee