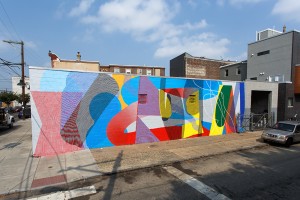 Please join fellow planners in the Southeast Section of the APAPA at our 2015 Annual Event!  For this year's event, we are inviting you to check out Mural Arts' Open Source, a citywide celebration of art and innovation! This experiential and educational program created a new series of public artworks that explore and illuminate Philadelphia's diverse urban identity, and encouraged artists to engage in community-centered explorations, addressing a variety of topics, including immigration, recycling, mass incarceration, the environment, community reinvestment, and displacement—all of which inform Mural Arts' long-term artistic and social practice.
Location: Mural Arts Open Source HUB, 30 S. 15th Street, Philadelphia, PA 19102
We also honor the 2015 John E. Pickett Scholarship Winners. Our scholarship committee has been working hard to review work by the brightest planning graduate students in Greater Philadelphia and will present $2,000 in scholarship funds to the top three projects. The event will include a brief description of the projects and the award ceremony for the authoring scholars.
Photo: Untitled © 2015 MOMO. 1831 Frankford Avenue, Philadelphia, PA. Photo by Steve Weinik.