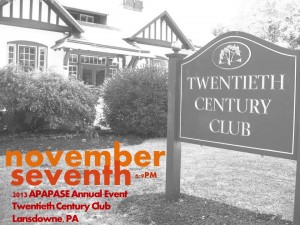 Please join fellow planners in the Southeast Section of the APAPA at our 2013 Annual Event!  Following our very successful 2012 Annual Event at The Manayunk Brew Pub, this year's event promises to be an exciting evening at the Twentieth Century Club in Lansdowne, PA (Delaware County) on November 7th.
This year, we are meeting up in Lansdowne and learning more about the interaction between the town and its businesses in creating successful downtown programs. 1 CM credit is expected for the presentation, followed by a few hours of food, drink and networking.  Watch the blog for more information!
RSVP today!
Worried about how to get there? Don't stress! The Twentieth Century Club is only a 5 minute walk from the SEPTA's Lansdowne stop on the Media/Elwyn Line!
5:45 pm Registration
6:00 – 7:00 Presentation
7:00 – 7:15 Student Award Presentation
7:15 – 9:00 Networking & Refreshments