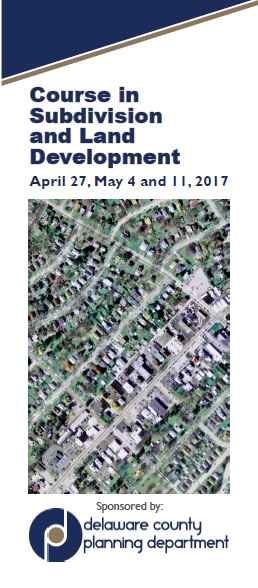 The Delaware County Planning Department is sponsoring the Course in Subdivision and Land Development during the evenings of April 27, May 4 and 11. This course deals with the work of planning commissions in the subdivision and land development review process- from pre application meetings through project completion. Extensively revised in 2005, the course emphasizes the MPC as the source of authority to regulate development. Planning commissions have a central role play in the land development process which is an integral part of a community's comprehensive planning program. New in the course are flexible design concepts and options for better project design.
Topics covered in the course include:
· Administering the review process
· Reviewing Plans
· Calculating impacts of development
The Course was developed by the Pennsylvania Municipal Planning Education Institute (PMPEI) to provide a unique educational service to municipal officials through the collaborative effort of the PA Chapter of APA and the PA State Association of Boroughs.
This course is intended for planning commissioners, zoning officials, elected officials, and others interested or involved in zoning.
Questions about the Course in Community Planning? Contact the Planning Department at 610-891-5200 or Planning_Department@co.delaware.pa.us.
Details
This course will be taught in three Thursday evening sessions.
Dates: April 27, May 4 and 11
Location: Delaware County Intermediate Unit, 200 Yale Avenue, Morton, Pennsylvania 19070
Time: The Course runs from 5:30pm—9:00pm. Please arrive promptly at 5:30pm on the first night for registration.
Costs: $65.00 per person
Registration
Registration for this course is limited to 30 people, so register today! You may register by mail using the registration form or by contacting the planning department at 610-891-5200 or GiftP@co.delaware.pa.us. You may enclose a payment with the registration form, mail a payment to the Planning Department, or bring a payment to the first class.
Continuing Education Credits
This course is approved for continuing education credit for several professional agencies, including the Pennsylvania Continuing Legal Education Board; the State Board of Landscape Architects; the Registration Board for Professional Engineers, Land Surveys, and Geologists; and the Pennsylvania Department of Labor and Industry, UCC Division. For more information, visit http://pmpei.org/continuing-education-credit/. Additional costs may apply.