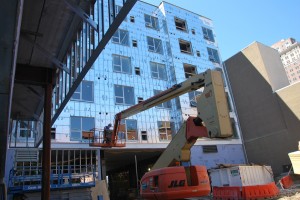 Thanks to all those who attended LGBT-Friendly Senior Housing in Philadelphia: Creating the John C. Anderson Apartments.  The session PowerPoint presentations are linked to in the program description below and are all available from this download folder.  Thanks again for coming and we thank you for your feedback. We will be releasing a recording of this session as well, which will be advertised from this blog.
Panelists
Sharon E. Maclean, Panel Moderator, AICP
Kate Clark, Policy and Program Development Planner, Philadelphia Corporation for the Aging
Jacob Fisher, Senior Developer, Pennrose Properties, LLC
Visualizations provided by architects – Wallace Roberts & Todd and contractor – Domus, Inc.
Deborah McColloch, Director, Philadelphia Office of Housing & Community Development
Ed Miller, Senior Programs Coordinator, William Way LGBT Community Center
Mark Segal, President, dmhFund, and PGN Publisher
dmhFund website about the John C. Anderson project
Jane Vincent, Mid-Atlantic Regional Administrator, U.S. Housing & Urban Development
Program Description:
The American Planning Association and the William Way LGBT Community Center hosted a panel discussion and reception on Thursday, July 18th, 2013, 7pm to discuss the John C. Anderson Housing Project – a significant precedent affordable housing development in Center City Philadelphia that has been undertaken to specifically address the needs of senior citizens in Center City Philadelphia.
In the LGBTQ community, seniors, as a demographic group, have been overlooked in programming and community planning initiatives until recently. This aging population faces unique housing obstacles which include discrimination, lack of certain legal protections, unique healthcare needs, and absence of a family support system.
The panel highlighted project management/development, senior programming, LGBT needs, funding, and planning perspectives. Seven experts involved in the successful creation of this new cutting-edge, LGBT-friendly, affordable, senior housing development in Philadelphia spoke about multi-sector financing, development coordination, senior needs, green technologies, and integrating LGBT aging issues into program planning and facilities.
This session is a part of the 2013 Greenbuild Challenge