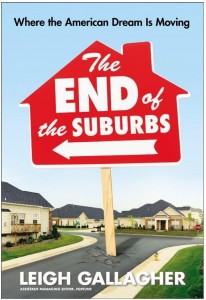 Is it "The End of the Suburbs"?
The Delaware Valley Smart Growth Alliance presents a book event with author Leigh Gallagher & Inquirer architecture critic Inga Saffron
Thursday, October 9, 2013
5:00 pm to 7:00 pm
Paradiso, 1627 Passyunk Avenue
Philadelphia, PA
The American Dream of homeownership was equated with an ideal of suburban living: single-family detached home, two cars in the driveway, multiple children attending strong public schools.
But as the nation emerges from the housing bust and Millennials defer marriage, homeownership, and children, the singular suburban American Dream may be giving way to a more heterogeneous vision. Join Fortune Magazine editor, Leigh Gallagher, and the Inquirer's Award Winning Architecture Critic, Inga Saffron, for a conversation about Leigh's new book, The End of the Suburbs. 
Schedule:
5:00 pm – Registration / cocktails & appetizers / networking
5:30 pm – Presentation and discussion
6:00 pm – Wrap up / cocktails & appetizers / networking
7:00 pm – Walking tour of the Avenue
Fee:
Pre-registered – $30/person; Walk-in – $40/person
Register here.
Event Sponsor:

The Delaware Valley Smart Growth Alliance (DVSGA) is an initiative of more than 200 government, private sector and non-profit organizations in the Greater Philadelphia tri-state region encompassing Southeastern Pennsylvania, Southern New Jersey, and Delaware.
The DVSGA facilitates smart growth by recognizing proposed projects — development plans, municipal plans and conservation projects — at the earliest stages and helping them get approved at the local level. Applicants with projects in the entitlement stage are encouraged to apply. All applications are treated confidentially. Projects are reviewed on a quarterly basis by an independent, regionally diverse jury. Each project that is recognized – in compliance with the DVSGA's smart growth criteria receives a letter of endorsement and an offer of testimony before local approval authorities. The process is confidential — if a project seeks recognition and is not recognized, it is not disclosed.
Projects that receive DVSGA recognition are those which foster regional growth and redevelopment in a manner that achieves important economic, environmental and quality of life objectives. By highlighting the potential of smart growth projects to add value to the region, the DVSGA hopes to encourage developers, business organizations, citizen groups and elected officials to strive for smart growth solutions.
Speaker Biographies:
Leigh Gallagher, Assistant Managing Editor, Fortune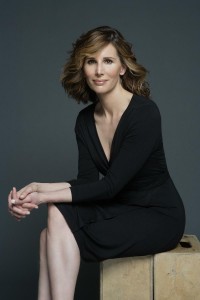 Leigh Gallagher is an Assistant Managing Editor at Fortune magazine, where she edits feature stories on a variety of subjects and oversees Fortune franchises including the "100 Best Companies to Work For" and the 40 Under 40 rankings. She is also a co-chair of the Fortune Most Powerful Women Summit, speaks regularly at Fortune and other business and economics conferences, and is a seasoned business news commentator, appearing regularly on MSNBC's Morning Joe, CNBC's Squawk Box, CNN's Piers Morgan Tonight, public radio's Marketplace and a wide variety of other programs. She is also a cochair of the Fortune U.S. State Department Global Women's Mentoring Partnership and a visiting scholar for the Business and Economic Reporting program at the Arthur L. Carter Journalism Institute at New York University.
Before joining Fortune in 2007, Leigh was a senior editor at SmartMoney magazine and a reporter and writer for Forbes. Originally from Media, Pennsylvania, Leigh is a graduate of Cornell University and lives in New York. The End of the Suburbs: Where the American Dream is Moving is her first book.
Inga Saffron, Architecture Critic, Philadelphia Inquirer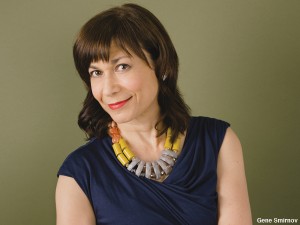 Inga Saffron writes about architecture, design and planning issues for The Philadelphia Inquirer. Her popular column, "Changing Skyline" has been appearing on Fridays in the paper's Home & Design section since 1999. In 2012, she completed a Loeb Fellowship at Harvard University's Graduate School of Design. She has been a finalist for the Pulitzer Prize three times, in 2004, 2008, and 2009, and in 2010 received the Gene Burd Urban Journalism Award.
Pushing beyond the usual boundaries of architectural criticism, her columns focus on the buildings and public spaces that Philadelphians encounter in their daily lives. In her criticism, Saffron also applies a reporter's skills and sensibility to explore the variety of forces – political, financial, cultural ¬- that shape the city. Her columns on waterfront development, zoning and parking issues have led to significant changes in city policy.
Before assuming her current position, Saffron spent five years as a correspondent in Eastern Europe and the former Soviet Union for The Inquirer. She covered wars in the former Yugoslavia and in Chechnya, and witnessed the destruction of Sarajevo and Grozny. It was in part because of those experiences that she became interested in the fate of cities and began writing about architecture.
Saffron began her journalism career as a magazine writer in Ireland and worked for the Courier-News in Plainfield, N.J., before joining The Inquirer in 1985 as a suburban reporter. She is the author of "Caviar: The Strange History and Uncertain Future of the World's Most Coveted Delicacy," published by Broadway Books in 2002. She lives with her family in Philadelphia.