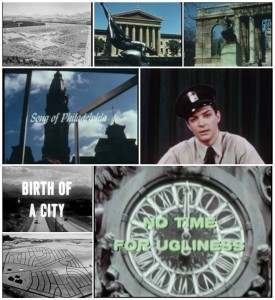 GeoPhilly, Philadelphia's meetup group for map enthusiasts, is pleased to present After Hours for Planners with Archival Planning Films.  This free event is held on the last day of the America Planning Association, Pennsylvania Chapter Annual Conference and features archival films from the 1950s-1960s about city planning and Philadelphia.  A meet and greet with local urban planners and GeoPhilly members will follow the film screening at The Institute Bar.
These archival films are a time capsule of mid-century Philadelphia life and historical planning practices.  The films feature a variety of planning recommendations which are at times archaic and at others times innovative and progressive. We hope you will find these films as charming, entertaining and fun as we do!
To travel from the conference, take the Market/Frankford line westbound from 2nd and Market to 11th and Market.  You can either walk north on 12th Street to the venue located at Spring Garden and 12th or you can take the 23 bus north from 11th and Market to 11th and Spring Garden and walk to 12th street.
Date:
Tuesday, October 14th, 6:00pm
Location: PhilaMoca, 531 N. 12th Street
RSVP: http://www.meetup.com/GeoPhilly/events/207445852/
No Time for Ugliness (1965): This film highlights case studies in urban renewal (like
Detroit's Lafayette Park
)
and historic preservation (like
Washington, D.C.'s Georgetown
).
It also warns us of the uniformity of the American suburb and the thoughtless environment that results from car-related development.
Birth of a City (1950s):  Educational / promotional film by the Turnpike Land Company showing how the city of Broomfield Heights, Colorado was planned and constructed. Scenic features of the area are highlighted to convince the viewer they should move to the new city.
Song of Philadelphia (1961): The "Song of Philadelphia" provides an overview of select people, places, and events in the city. The film was produced for the Office of the City Representative Division of Public Information Board of Trade and Conventions and is narrated by Dick Clark.
Important People (1960s): This Philadelphia Transportation Company film provides an overview of the many people who work together to provide mass transportation in the City of Philadelphia. There's one group in particular, however, that is identified as "the most important people!"