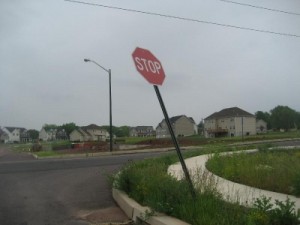 Come join a panel of nationally renowned housing experts Chris Leinberger, John McIlwain,  and Robert Bowman  discuss the future of housing and how it relates to Smart Growth.  The event American Dream or American Nightmare: Housing after the Great Recession will be held on November 8, 2012 from 8am to 11:30 am at PECO, Energy Hall 2301 Market Street in Philadelphia.
Generation of Americans in the 20th century moved out of cities, seeking more land, space, and privacy.  Since the second world war, every prior downturn was followed by a swift uptick and resumption of growth, satisfying our social norms of "success" and fueling our primary source of savings.  Are we experiencing a long pause from this virtuous cycle or the beginning of a "new normal?"
To register or sponsor the event:
http://events.constantcontact.com/register/event?llr=lfsiqshab&oeidk=a07e6ge7nlyfa8cb91e
DVSGA Fall Forum
American Dream or American Nightmare: Housing after the Great Recession
Thursday, November 8, 2012, 8:00 am to 11:30 am
PECO Energy Hall, 2301 Market Street, Philadelphia, PA
SCHEDULE
8:00        Registration/ refreshments/networking
8:30        Overview of the issue of housing and economic crisis
8:45        Speakers: Chris Leinberger, John McIlwain, Robert Bowman
10:20     Facilitated discussion with moderator, speakers and audience
11:00     Program ends/ discussion and networking
11:30     End of event
SPEAKERS
Christopher B. Leinberger, Professor, Author, and President of Locus
Christopher B. Leinberger is a land use strategist, teacher, developer, researcher and author, balancing business realities with social and environmental concerns. Mr. Leinberger is President of Locus, Responsible Real Estate Developers and Investors, Nonresident Senior Fellow at Brookings Institution in Washington DC, The Charles Bendit Distinguished Scholar and Research Professor, George Washington University School of   Business, and Founding Partner of Arcadia Land Company, a New Urbanism and transit-oriented development firm. His most recent book is The Option of Urbanism, Investing in a New American Dream. Leinberger was voted one of the "Top 100 Urban Thinkers" in a 2009 poll conducted by Planetizen. Leinberger is a graduate of Swarthmore College and the Harvard Business School and lives in Washington, DC.
John K. McIlwain, Senior Resident Fellow/J. Ronald Terwilliger Chair for Housing of Urban Land Institute
John K. McIlwain is the Senior Resident Fellow/J. Ronald Terwilliger Chair for Housing at the Urban Land Institute (ULI) in Washington, D.C. An author, speaker and former lawyer, McIlwain brings more than 35 years of experience in the fields of housing, housing investment and the development of sustainable housing. As the Senior Resident Fellow for Housing, McIlwain's responsibilities include leading ULI's research efforts to seek and promote affordable housing solutions. McIlwain received a law degree from New York University where he worked for the NYU Law Review and was a John Norton Pomeroy Scholar. He received a Bachelor of Arts, cum laude, from Princeton University.
Robert Bowman, President, Charter Homes & Neighborhoods
Robert Bowman founded Charter Homes in 1990 after graduating from college with a passion for design and an interest in building a business from the ground up. Soon after, he realized that while designing great places included creating homes with a strong sense of style, it also required that Charter become an industry expert in how to design and develop land in a way that creates timeless value and ages well. Mr. Bowman's commitment to creating great neighborhoods drives him and the company forward. He is also committed to serving the people in the community in which Charter does business, through his significant involvement in leadership positions and financial support of a number of organizations.
Registration for this event will be capped at 125, so please register early. Online registration closes 11/4/12, rates for attendees paying at the door will increase by $15.
Public Sector/Non Profit:  $45
Private Sector: $65
SPONSORSHIPS AVAILABLE, PLEASE SEE http://events.constantcontact.com/register/event?llr=lfsiqshab&oeidk=a07e6ge7nlyfa8cb91e