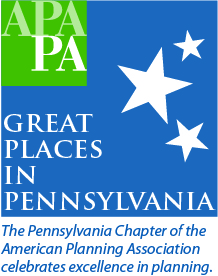 The PA Chapter of the American Planning Association recently kicked-off its 2017 Great Places in Pennsylvania Program.  Great Places are unique, memorable places where people want to be – not only to visit, but to live, work and/or play every day.  They serve as a model that other communities want to emulate – places of exemplary character, quality planning, identity, cultural interest and community involvement with a sustainable vision for the future.
Nominations are now open and seeking the nomination of Great Public Spaces and Great Streets. If you know a special public space or street that truly stands out in what it offers residents and visitors, NOMINATE IT!!!!
You can view the Program Guidelines, Category Criteria and Nomination Form on the APA PA website. The program flyer also contains links to the Program materials and the Nomination Form. The deadline for Nominations is April 18, 2017.
Great Places in PA 2017 Program Announcement Flyer
Past Southeast Section Winners
2016 Great Streets and Great Greenways/Trails
Butler Avenue, Ambler Borough (Montgomery County)
Schuylkill Banks Trail & Greenway (Philadelphia)
D & L Trail (including Bucks County)
2015 Great Neighborhoods and Great Public Spaces
Media Borough (Delaware County)
The Oval (Philadelphia)
2014 Great Neighborhoods and Great Public Spaces
Downtown West Chester (Chester County)
Race Street Pier (Philadelphia)