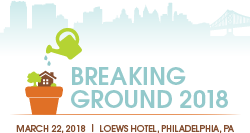 Thursday, March 22, 2018
7:30 AM – 3:30 PM
Loews Philadelphia Hotel
1200 Market Street
Philadelphia, PA 19102
Breaking Ground 2018: Transforming a Region Together is a day-long conference that aims highlights the principles and goals of Connections 2045 Long-Range Plan for Greater Philadelphia [https://www.dvrpc.org/Connections2045/]. While our region is made up of 352 local governments, we will be better-positioned and more economically competitive if we move forward together, as a region. This year's conference celebrates regional cooperation and government efficiency. The keynote speaker—Brian Elms—is an expert in management and government performance. All attendees will receive a copy of Brian Elms' book, PeakPerformance: How Denver's Peak Academy is saving millions of dollars, boosting morale, and just maybe changing the world.
Concurrent sessions will feature government transparency, sustainable environmental practices, collaboration between businesses and government, the use of data and metrics, and a celebration of diversity age-friendly communities. Breaking Ground 2018 is expanding to include a Learning Lounge, which will feature businesses and tech companies that assist municipal governments in better serving their citizens.
Who Should Attend?
This conference has been designed for local government staff and officials, planning practitioners, community and economic development professionals, civil engineers, architects, and other professionals who work in or with different levels of government.
Find out more at [https://www.dvrpc.org/breakingground/]
Register at [https://dvrpc.ticketleap.com/breaking-ground-2018/]
Early Bird (Before 2/22/2018):
Nonprofits and Government: $75
Private Sector: $125
Standard Rate (After 2/22/2018):
Nonprofits and Government: $100
Private Sector: $175
Walk-in Rate:   $200