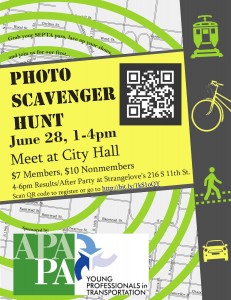 Saturday, June 28, 2014
 (Rain Date: 
Sunday, June 29, 2014
)
Hunt from 
1 PM – 4 PM
; Scoring and Post-Hunt Happy Hour from 
4 – 6 pm
$7 for members of APAPA or YPT; $10 for non-members
Grab your SEPTA pass, lace up your shoes, and join us for our first ever Photo Scavenger Hunt!
Meet us in the City Hall Courtyard at 1pm to pick up your clues and begin the hunt. You'll have until4pm to travel to as many locations on the list as you can and take a photo with your team. Teams are capped at 4 members. No team? Don't worry–register as an individual and we'll set you up with a team at the beginning of the event.
Some clues will be in Center City and others will be far away–but everything is reachable via SEPTA! And, of course, your team will earn more points for the locations that are farther away and more difficult to reach.
Along the way, your team should email your photos to our judges – so don't forget, each team will need at least one smartphone! All photos will have to be submitted by the end of the hunt at 4pm.
After the hunt is over, join us for an afterparty at Strangelove's (216 S 11th St) to hear the results! Your registration includes your first drink, so be sure to join us!
If you have any questions in advance of the hunt, just drop us a line at yptphilly@gmail.com
Register at: https://my.yptransportation.org/civicrm/event/info?id=105