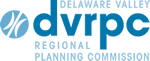 Website DVRPC
What is DVRPC's Fellowship Program?
The Delaware Valley Regional Planning Commission (DVRPC) Fellowship Program provides a unique experience in urban and regional planning to serve in various departments at the Commission over the course of a year. The program is committed to support the development of a pipeline of talented individuals from historically underrepresented minority communities into the urban and regional planning fields, and related fields like GIS analysis or capital programming. The selected fellow will participate in the daily activities of a Metropolitan Planning Organization (MPO), complete special projects, and experience firsthand how regional and local plans are made in the Greater Philadelphia region. The fellow's specific department and project assignments will be determined based on a combination of the selected candidate's specific skills and interests, and DVRPC project needs.
We believe DVRPC is a place to work, learn, and create a career in a professional and stimulating environment that values diversity, innovation, and bringing your best self to work. The DVRPC Fellowship, which is a paid, year-long, full-time, professional development program, is open to college graduates who are residents of the nine-county DVRPC region, or have received their bachelor's degree from a program in the region. The program is designed to promote and support the fellow to gain the skills, contacts, and experience to help them excel in their career in planning or related disciplines. There will be one fellow at a time.
The selected fellow will:
Gain real-world experience while learning DVRPC's methods for effective research, analysis, and consensus building.
Work in collaboration with government organizations and invested stakeholders on issues that affect the Greater Philadelphia region.
Participate in DVRPC's work bringing community members directly into the planning process, learning valuable skills for facilitating conversations and incorporating feedback in meaningful ways.
Experience valuable professional development and mentoring opportunities with DVRPC staff.
Gain a broad range of marketable professional skills and get hands-on project experience.
Work with an amazing staff of professionals and contribute to the growth and development of an exciting and effective organization.
After successful completion of the program, DVRPC fellows may be considered for full-time positions at DVRPC (if positions are available). The Fellowship will also prepare you well to attend graduate school or begin a successful career.
Eligibility
DVRPC's Fellowship Program is open to talented individuals from historically underrepresented minority communities who will have received their bachelor's degree from a program in the nine-county DVRPC region or is a resident of the DVRPC region. Fellows are required to have their bachelor's degree by program start date. Employment is contingent upon ability to comply with Immigration and Naturalization Service regulations which state when offered employment "identity and right to work in the United States" must be produced.
The ideal candidate will:
Have a background or possess a record of academic achievement in the areas of public administration, public policy, urban studies, economics, finance, political science, engineering, environmental studies, geography, GIS, or a related discipline. However, we recognize that individuals with potential to become a great regional or urban planner (or related disciplines) may come from a broader range of experiences. Many of us do!
Demonstrate excellent problem solving, analytical, quantitative, written and oral communication, and interpersonal skills with a strong customer service orientation.
Proficiency in Microsoft Office and Google Suite.
Have an interest or competency in managing, analyzing, and communicating data.
Be friendly, self-directed, detail-oriented, and able to work in a collaborative environment with a broad range of partners.
Be flexible and enthusiastic about experiencing all the facets that DVRPC has to offer, including areas that are not necessarily aligned with their professional backgrounds.
Specialized technical skills, such as an interest in databases, GIS, survey research, and/or programming languages is a plus.
Having some work experience and/or internships in public service, transportation, government, or related fields, is a plus.
Responsibilities
The fellow will work on a broad range of DVRPC projects. There will be some opportunities for creating original work, but the bulk of the role will involve providing support on existing projects.
The fellow will work 37.5-hours a week during the Fellowship period.
The fellow's specific department and project assignments will be determined based on a combination of the selected candidate's specific skills and interests, and DVRPC project needs, and the fellow will also be expected to be flexible in providing general administrative and organizational support as needed.
About DVRPC
DVRPC's vision for the Greater Philadelphia Region is a prosperous, innovative, equitable, resilient, and sustainable region that increases mobility choices by investing in a safe and modern transportation system; that protects and preserves our natural resources while creating healthy communities; and fosters greater opportunities for all.
DVRPC's mission is to achieve this vision by convening the widest array of partners to inform and facilitate data-driven decision-making. We are engaged across the region, and strive to be leaders and innovators, exploring new ideas and creating best practices.
We provide services to member governments and others through planning analysis, data collection, and mapping services. Aerial photographs, maps, and a variety of publications are available to the public and private sector.
DVRPC serves a diverse nine-county region in two states: Bucks, Chester, Delaware, Montgomery and Philadelphia in Pennsylvania; and Burlington, Camden, Gloucester and Mercer in New Jersey.
Selection
All applications are due by noon on Friday, April 17, 2020.
Complete applications will be reviewed by a selection committee, who will evaluate applicants based on the criteria above. The most qualified candidates will then be selected to interview with the committee at DVRPC's offices in Philadelphia, or in some cases virtually.
After the interviews, the selection committee forwards its recommendations to the Executive Director based on the applicant's academic achievement, analytical and communication skills, and work experience, recommendations, quality of writing sample or exercise materials, and overall interest in regional and urban planning. The Executive Director then makes the final selection. Recipient of the Fellowship will be notified as soon as possible following the Executive Director's decision.
The Fellowship will take place from July 2020 through June 2021, and for a second year if there is mutual interest and work assignments lend themselves to a continuation. No fellowship will continue for more than two years, and the current fellow will be invited to be part of the selection committee to select the subsequent fellow.
Salary & Benefits
DVRPC fellows receive a stipend of $40,000 (paid biweekly) plus full fringe benefits (including health, dental, life insurance, vacation, holidays, and retirement contributions) during the Fellowship year. The year of service corresponds with DVRPC's fiscal year, July 1, 2020 through June 30, 2021. Housing is the responsibility of the fellow.
The Fellowship will also provide mentorship opportunities. This will include mentorship from the DVRPC staff in the methods and processes we use to achieve our mission, as well as through ongoing supervision/coordination of the Fellowship by one of DVRPC's Associate Directors who represents a broad range of DVRPC's planning and analysis work. This is an opportunity to learn more about the field, gain access to experts in the planning field, and ask questions that help you in your own career development.
Apply
The following items are needed to apply:
Cover letter, in which you address why you are interested in the Fellowship, what you hope to get out of it, and what your goals are for your career
College transcript (unofficial transcripts okay)
Current resume
Writing sample (preferably 3-5 pages) that reflects your writing style and incorporates some quantitative analysis and/or original charts, drawings, or other graphics
Three letters of recommendation or professional references, with contact information
Completed Affirmative Action Information Sheet

[0.1 MB pdf]
To apply, please send all materials in one email to: resumes@dvrpc.org or mailed in one packet to:
DVRPC Fellowship Program
c/o DVRPC's Human Resources Office
190 N. Independence Mall West
8
th
Floor
Philadelphia, PA 19106
To be eligible for consideration, applications must be received by noon on April 17, 2020. Again, all application material must be mailed or emailed together to avoid loss of documentation. Material sent separately will not be accepted. Please note that we will NOT review applications that do not provide all requested materials.
This solicitation is not a guarantee of employment.