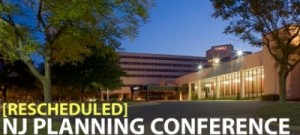 The NJ Chapter rescheduled its annual conference due to the impacts from superstorm Sandy, and is now ready to go on with the conference – retooled to directly address issues such as permitting the rebuilding efforts, funding, recovery planning, and resiliency.  The conference, being held in New Brunswick, also includes training to prepare for the LEED exam and a GIS program that includes a half day working at computers.  Planning ethics and law are also covered during the two day program.
CONFERENCE QUICK LINKS
CLICK HERE to register for the upcoming New Jersey Planning Conference which will take place on Thursday, January 31 and Friday, February 1
CLICK HERE to book a hotel room at a discounted APA-NJ room block rate
CLICK HERE to take advantage of sponsoring, exhibiting and advertising opportunities
A revised agenda/preliminary program is also available on the conference website www.2012njplanningconference.org.