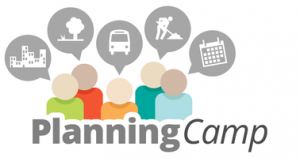 PlanningCamp is an unconference about technology and the future of urban planning.
Join us on February 1st if you're working at the intersection of technology and the hard effort of making better cities — on the technology side, or the planning side, or a bit of both.
Spend a day in sessions led by your peers, exploring new and old challenges. Whether you're thinking about the role technology in public involvement, increasing equity, modeling, analysis, community organizing, at local to regional scales, PlanningCamp will be an opportunity to go deep into conversations and form new connections.
Who will be there?
Unconferences work best with a diversity of attendees. We're working hard to invite a crowd that reflects the variety of people working on urban issues. Please help us spread the word among your smartest planning and technology friends.
An "unconference"??
If this is your first unconference, congratulations! An unconference is a conference where sessions are programmed and led by the attendees. Unconferences are popular in the tech world because they reflect the culture of the industry – hands-on, flexible, a little casual but very hard working. All the sessions are open for attendees to define, describe, and lead. You'll find the format to be energizing and entertaining. Look out for more about attending an unconference as we get closer to the event, and if you're curious, check out some of the past events at TransportationCamp, the big sister event of PlanningCamp.
Where will it be?
PlanningCamp Philly will take place at Impact Hub at 1227 N. 4th Street. Impact Hub is part innovation lab, part business incubator, and part community center, offering members a unique ecosystem of resources, inspiration, and collaboration opportunities to grow impact.  We are very excited to be parternering with them for PlanningCamp Philly!
$15?
The unconference experience includes plenty of time for coversation over breakfast, lunch and snack breaks. Plus, enough coffee for a high-energy day. We're happy to announce that Mugshots will be catering PlanningCamp Philly this year. Tickets will help us offset food and drinks costs, but let us know if the price of the ticket might prevent you attending.
Why are you organizing PlanningCamp?
With support from the Knight Foundation, OpenPlans is organizing PlanningCamps in multiple cities in 2013 and 2014. We're using the unconferences to explore what's needed in Plan In A Box, a software tool to support greater sharing of informtion about planning projects.
Register at: https://www.eventbrite.com/e/planningcamp-philly-tickets-9521879197