Announcing the 2013 APAPA Southeast Section Student Scholarship Awards
This year, three projects were recognized by the Section. Each represents excellence in research projects at the graduate level from area universities.
First place- Best Group Project
University of Pennsylvania
JESSE BLITZSTEIN
SARA BRANDT-VOREL
PETER CHOMKO
CHRISTOPHER CUMMINGS
LINDSEY GAEL
DANIEL RHINE
ELANA TAUBMAN
LIZA WALLIS
This research paper explored use opportunities for City schools that were programmed for closure. The project thoroughly investigated the neighborhoods in which they were located and proposed a series of realistic alternative uses.
The policy recommendations in this report outline a new framework for school disposition and reuse in Philadelphia.
"With smart planning, vigorous community engagement, strong public leadership, and savvy private investment, closed public school buildings can be repurposed as assets enabling Philadelphia to catalyze positive neighborhood change"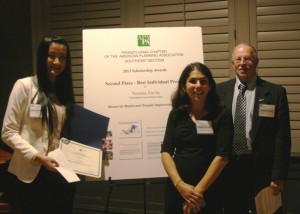 Second Place- Best Individual Project
Roosevelt Boulevard Transit Improvement Plan
University of Pennsylvania
Veronica Ge
This research paper explored opportunities to enhance transit service along the Roosevelt Boulevard in Philadelphia. The project explored both infrastructure improvements as well as land use recommendations to make a transit-friendly environment along this corridor.
"Transit services should be improved along the Boulevard to encourage more people to take transit instead of driving"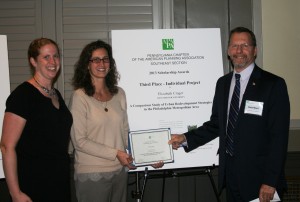 Third Place- Individual Project
A Comparison Study of Urban Redevelopment Strategies in the Philadelphia Metropolitan Area
West Chester University
Elizabeth Crager
This research paper explored what we have learned from a series of revitalization projects around the Delaware Valley, including case studies in the Transition Town of Cheltenham, the Piazza at Schmidts Brewery and the renaissance experienced at the historic Navy Yard.
Future urban redevelopment case studies might include the changing demographics in and around a redevelopment site, including median age, median income level, highest achieved education level, and/or household size.
"Urban redevelopment preserves the history and culture of a neighborhood, while providing a way for that neighborhood to grow in all aspects"