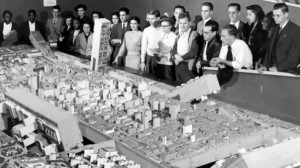 The DVRPC Regional Student Forum is an opportunity for undergraduate and graduate students to come together to discuss planning issues, career development, and other topics of interest. The next DVRPC Regional Student Forum will take place on:
Thursday, October 24, 2013
3:00 PM-5:00 P.M.
Philadelphia History Museum
15 South 7th Street
Philadelphia, PA 19106
Topic: Urban Planning in Philadelphia's History
For over 40 years, the Delaware Valley Regional Planning Commission (DVRPC) has been the principal agency charged with planning for the future of southeastern Pennsylvania and southern New Jersey. This event will focus on the centuries leading up to that point and the evolution of the city of Philadelphia from "greene country towne" to a thriving metropolis. A historian will explore the centrality of planning at key points in Philadelphia's history, and facilitate a discussion of the museum's fascinating galleries.
Refreshments will be provided!
RSVPs are required, as space is limited. To RSVP or join the Regional Student Forum mailing list, please contact:
Jane Meconi
Public Involvement Manager