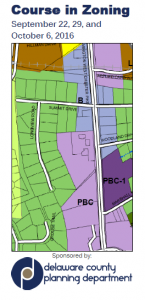 The Delaware County Planning Department is sponsoring the Course in Zoning during the evenings of September 22, 29, and October 6. This "nuts and bolts" course deals with the most complex and provocative topic in local planning.  It stresses the fundamentals for developing a sound zoning ordinance using the authority granted in the PA Municipalities Planning Code. The course includes mapping exercises, reviews of ordinance provisions, and discussions of problem situations.
Topics include:
· Relationship of zoning to comprehensive plans
· Key terms used in zoning and how they are applied
· Critical issues in drafting a zoning ordinance and map
· Procedures for adopting and amending ordinances
· Basic zoning administration
The Course was developed by the Pennsylvania Municipal Planning Education Institute (PMPEI) to provide a unique educational service to municipal officials through the collaborative effort of the PA Chapter of APA and the PA State Association of Boroughs.
This course is intended for planning commissioners, zoning officials, elected officials, and others interested or involved in zoning.
Questions about the Course in Community Planning? Contact the Planning Department at 610-891-5200 or Planning_Department@co.delaware.pa.us.
Details
This course will be taught in three Thursday evening sessions.
Dates: September 22, 29, and October 6
Location: Delaware County Intermediate Unit, 200 Yale Avenue, Morton, Pennsylvania  19070
Time: The Course runs from 5:30pm—9:00pm. Please arrive promptly at 5:30pm on the first night for registration.
Costs: $65.00 per person
Registration
Registration for this course is limited to 30 people, so register today! You may register by mail using the registration form or by contacting the planning department at 610-891-5200 or GiftP@co.delaware.pa.us. You may enclose a payment with the registration form, mail a payment to the Planning Department, or bring a payment to the first class.
Continuing Education Credits
This course is approved for continuing education credit for several professional agencies, including the Pennsylvania Continuing Legal Education Board; the State Board of Landscape Architects; the Registration Board for Professional Engineers, Land Surveys, and Geologists; and the Pennsylvania Department of Labor and Industry, UCC Division. For more information, visit http://pmpei.org/continuing-education-credit/. Additional costs may apply.