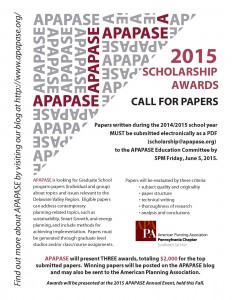 Papers written during the 2014/2015 school year 
MUST be submitted electronically as a PDF to the APAPASE Education Committee at 
scholarships@apapase.org
by 
Friday, June 5th at 5pm
.
APAPASE is looking for Graduate School program papers (individual and group) about topics and issues relevant to the Delaware Valley Region. Eligible papers can address contemporary planning-related topics, such as sustainability, Smart Growth, and energy planning, and include methods for achieving implementation. Papers must be generated through graduate level studios and/or class/course assignments.

Papers will be evaluated by these criteria: subject quality and originality, paper structure, technical writing, thoroughness of research, and analysis and conclusions.
APAPASE will present THREE awards, totaling $2,000 for the top submitted papers. Winning papers will be posted on the APAPASE blog and may also be sent to the American Planning Association.